Frederick P. Whiddon: A Visionary Leader Helps Transform A Region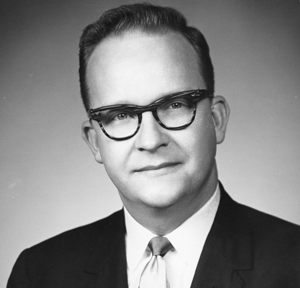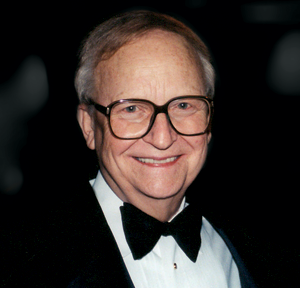 At 30 years old, Dr. Frederick Palmer Whiddon arrived in Mobile to head a small outpost of the University of Alabama. Just three years later, he helped launch an institution that would become the region's dominant force in higher education, forever transforming the education, healthcare, economy and quality of life of the people of the upper Gulf Coast.
A native of Newville in southeast Alabama, Whiddon came to Mobile from Athens College at a time of rising concern in the area about the vacuum in public higher education.
The upper Gulf Coast region was fertile ground — an area with a large population on the brink of industrial expansion and less than stellar per capita higher educational achievement, mostly due to a lack of access to a public four-year university. Whiddon wasted little time in working with community leadership to attempt to expand the University of Alabama Mobile Center into a full-scale branch of the university.
When he was unable to gain traction with the contemporary powers in place at the University of Alabama, despite enthusiastic local support, Whiddon put his energy toward the creation of a new state university, the first new public university in Alabama in almost 70 years.
The path to the University of South Alabama was strewn with numerous opportunities to abandon the cause. Invariably, the hurdles involved money. But Whiddon was determined, and his shared vision with the community led to the creation of the University of South Alabama by an act of the Alabama Legislature in May 1963.
On Oct. 18, he was unanimously selected as USA's first president by the Board of Trustees, becoming the youngest university president in the country at age 33.
"I had my briefcase, some legal pads, a few pencils and a borrowed desk, walked around town looking for office space, put an ad in the paper for a secretary, rented an old office building on St. Louis Street that had been
According to Stewart's account, a citizen leadership group — the Mobile County Foundation for Public Higher Education — laid the groundwork for USA, but someone with a special vision and determination, such as Whiddon, was needed for such a bold undertaking to succeed.
Whiddon, who majored in English and philosophy at Birmingham-Southern College before receiving a Ph.D. in philosophy and a degree in theology at Emory University, was not from Mobile, noted Stewart, and "perhaps that is just what Mobile needed most, a newcomer with vision. Whiddon possessed the ability to reach out and make friends with and recruit a substantial cross section of the business, industrial, professional and civic leadership of this old, rather conservative city."

"Whiddon possessed the ability to
reach out and make friends with and
recruit a substantial cross section of the
business, industrial, professional and
civic leadership of this old, rather
conservative city."
- John Craig Stewart, former USA professor and historian


Though there were naysayers along the way regarding the likelihood of a four-year public university in Mobile, Whiddon and his able allies within the city's business and political hierarchy prevailed, securing an initial state appropriation of $509,000. From that modest first appropriation and a single building, within 15 years, the University had an annual state appropriation of $20 million to support numerous colleges on a 600-acre campus, a second campus at Brookley Field and a medical school.
A common theme throughout the early days was the young president's tenacity, which, time and again, paid dividends for the University of South Alabama and the citizens it served.
For instance, USA reached a critical juncture in its history in 1965, when the University was allocated a paltry $1 million from a $116 million state education bond issue. Some $50 million was designated for higher education, with two-thirds going to the University of Alabama and Auburn University. Whiddon refused to sign the proposal, believing to do so would forever "doom USA to insignificance." Whiddon and area legislators were able to negotiate USA's take up to $3.5 million. Perhaps as importantly, the gumption to do battle paid dividends in future legislative sessions.
Mobile's need for a medical school was always in Whiddon's mind. Again, community leaders rallied. The University acquired Mobile General Hospital, and with a teaching facility secured, the first class of 25 medical students began its studies in January 1973.
USA may have begun small, but its growth under the first president was explosive.
By the time Whiddon retired in 1998, USA was a major teaching, research and healthcare force with nine schools and colleges, a hospital system and an enrollment that topped 12,000. During Whiddon's tenure, the University awarded 40,000 degrees, transforming the region's economy and workforce and attaining its founders' goal of expanding access to higher education.
And, a pledge from Whiddon's Oct. 18, 1964, University dedication speech had been met.
"We dedicate our efforts to those high purposes for which it is founded: to the banishment of ignorance, to the enrichment of personal life, to the development of those individual talents and skills that will enable each person who studies within these walls of our University to serve to the fullest the needs of his fellow man," Whiddon said. "This, then, is our pledge to the citizens of this state, of this country, indeed to mankind. Less than this we cannot do, if we are to realize the hopes and faith of those who worked without stint to establish the University of South Alabama."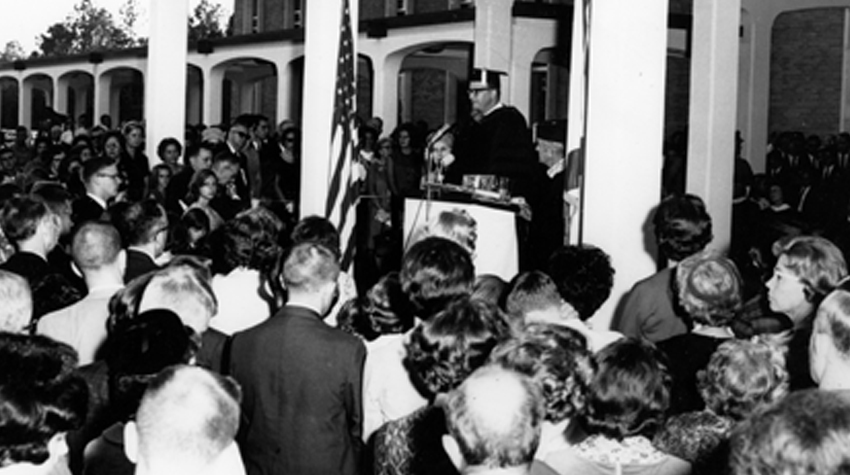 Dr. Fred Whiddon addresses students, faculty, invited dignitaries and citizens in front of the Administration Building as the new University of South Alabama is dedicated on Oct. 18, 1964. The building was later named in his honor. Photo courtesy of The Doy Leale McCall Rare Book and Manuscript Library.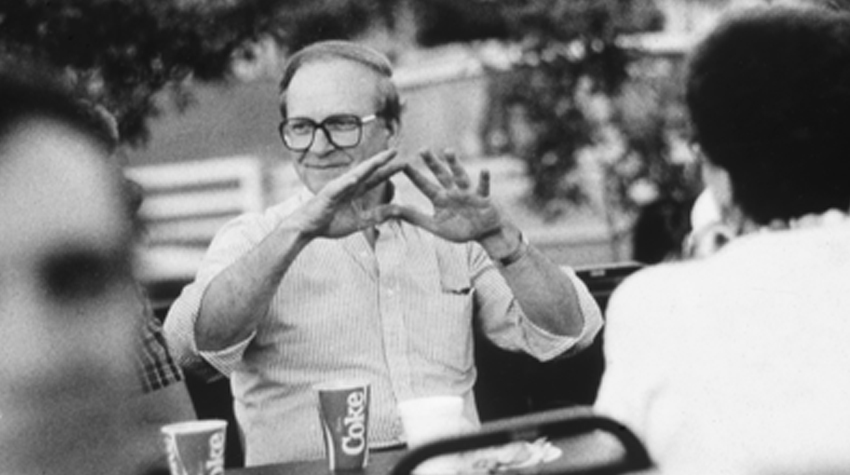 Dr. Fred Whiddon played a crucial role in the explosive growth at USA during his more than three decades as president. He immersed himself in all aspects of the University. Photo courtesy of The Doy Leale McCall Rare Book and Manuscript Library.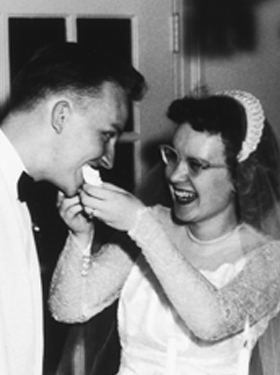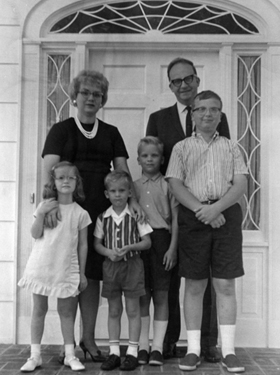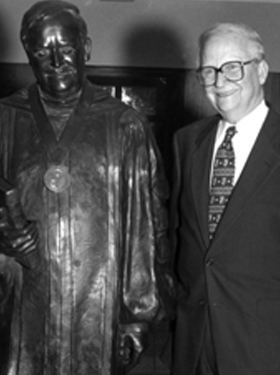 Clockwise, from upper left, Fred and June Whiddon at their wedding on June 14, 1952 in Tuscaloosa, Ala.; the Whiddon's with their children, from left, Karen, Keith, John and Charles, at their home near the University in the late 1960s; and Whiddon next to a statue of his likeness at the dedication of the Frederick Palmer Whiddon Administration building in October 1997. Photos courtesy of The Doy Leale McCall Rare Book and Manuscript Library.