A Leader from Within: Moulton ushers in USA's Modern Era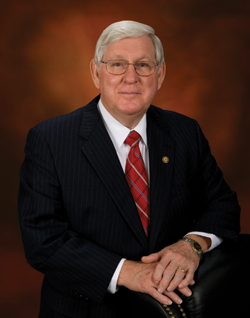 V. Gordon Moulton

When the University of South Alabama Board of Trustees began seeking a successor to the institution's longtime founding president, they knew it was vital to attract someone with vast leadership experience and a deep understanding of the issues facing a young urban university.
The board didn't have to look far to find a uniquely qualified 30-year faculty member, dean and vice president who had been in the trenches at USA almost from day one.
"The man didn't seek the job; the job sought the man," reminisced Ken Kvalheim, a USA alumnus and former trustee involved in the search that resulted in Gordon Moulton being named USA's second president in 1998.
Growing up on a farm in southwest Georgia had prepared an 18-year-old Moulton for the rigorous task of attending the Georgia Institute of Technology as a co-op student. After receiving a hard-earned degree in industrial management, he was awarded a full scholarship for graduate school at Emory University. In 1966, Moulton joined the faculty of the brand-new USA College of Business.

Possessing the versatility needed by the young University, Moulton established the
department of computer and information sciences, and later served as founding
dean of USA's School of Computer and Information Sciences(now the School
of Computing).
He served as director of computer services, dean of administrative services and a
15-year appointment as vice president for services and planning.
In 15 years as president, Moulton "transformed the University into one of the nation's finest educational institutions, a community partner that sets the tone of excellence, and he created an economic development engine at the University that provides countless jobs and resources for citizens throughout Mobile and the region," said former USA trustee Sam Jones.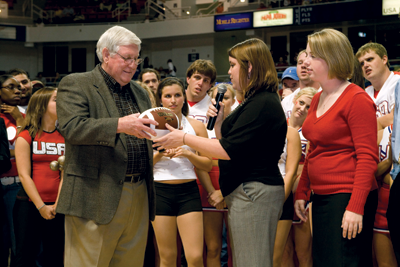 In 2007, students collected more than 2,000 signatures in favor of starting NCAA-sanctioned football and a marching band at USA. They presented the 15-foot scroll of names and a football to President Gordon Moulton during halftime of a Jaguar basketball game.
"When I think about the success the University of South Alabama enjoys today, Gordon and Geri Moulton immediately come to mind," said James A. "Jim" Yance, a USA trustee who knew the Moultons when he was a student at the University.
"Under the leadership of President Moulton, the University has achieved significant milestones in every area, including student enrollment and graduation, academic program development, healthcare delivery, enhancement of student life and the campus environment, research funding, private sector giving, community involvement and economic enhancement, and the list goes on and on.
"Geri Moulton, likewise, has contributed generously of her many talents, time, resources and energy and has been fully invested in the success and betterment of not only the University, but the total community in which we live.
"I find it truly inspiring to work with people who are so committed to the highest and the best for this University," Yance said.
During Moulton's presidency, USA:
Grew in enrollment by a third to a record 15,000.
Nearly doubled the number of degrees awarded to 75,000.
Quadrupled its scholarship program and created the University Honors Program.
Expanded its academic reputation and degree programs.
Implemented student life enhancements including football and marching band and new recreation, dining and housing facilities.
Completed more than a half-billion dollars in construction, supporting every mission of the University.
Expanded healthcare through creation of the USA Mitchell Cancer Institute and a major addition to USA Children's & Women's Hospital, complementing efforts of the USA Medical Center and the physicians and professionals of the USA Health System, who treat more than 250,000 area citizens annually.
Initiated the first comprehensive fundraising campaign at USA, generating more than $93.5 million to support all missions of the University.
Became one of Mobile's most powerful economic drivers, employing more than 5,500 people, and adding $3 billion annually to the area economy.
Doubled its contract and grant research program, achieving the same Carnegie research ranking as Auburn University and the University of Alabama.
Created the USA Technology and Research Park, employing 600 private sector professionals.
Made numerous enhancements to the art, history and culture of the Mobile region.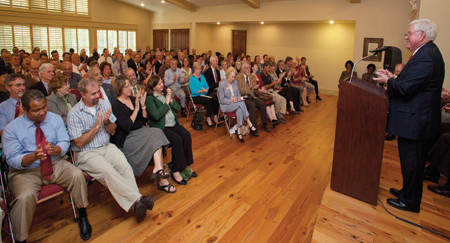 President Gordon Moulton addresses the University of South Alabama faculty at its fall 2011 general meeting at the Faculty Club. Moulton joined the faculty in 1966, three years after USA was founded.
In addition to more than 47 years of service, the Moultons supported USA with more than $7 million in gifts toward numerous institutional priorities, including the USA Mitchell Cancer Institute, Moulton Tower and Alumni Plaza, Geri Moulton Children's Park at USA Children's & Women's Hospital, student scholarships, faculty support, USA's creative writing program, athletics and many others.
Moulton's contributions have been widely praised by the community. He was awarded the Civitan Mobilian of the Year award in 2002, and the Moultons' service was forever commemorated in 2009 with the naming by USA's Board of Trustees of the new landmark Gordon and Geri Moulton Bell Tower and Alumni Plaza.
Moulton retired in 2013, shortly before his death.
"The true measure of a great university is ultimately demonstrated through the accomplishments and recognition of its graduates and the contributions of its faculty through the creation of new knowledge and ideas," Moulton said before leaving the University.
"The quality of the faculty, the staff and the students in any institution ultimately drives this outcome, and I have been privileged to work with the very best.
"We're a comprehensive University with a huge public service mission, much of which is associated with our hospitals and clinics. Those employees each day focus on the excellent care and treatment of thousands of patients and the easing of disease.
"It has been highly satisfying and a privilege to be a part of an institution that, through its teaching, research, service and healthcare missions, has made and will forever continue to make a remarkable positive impact on the quality of life of countless people."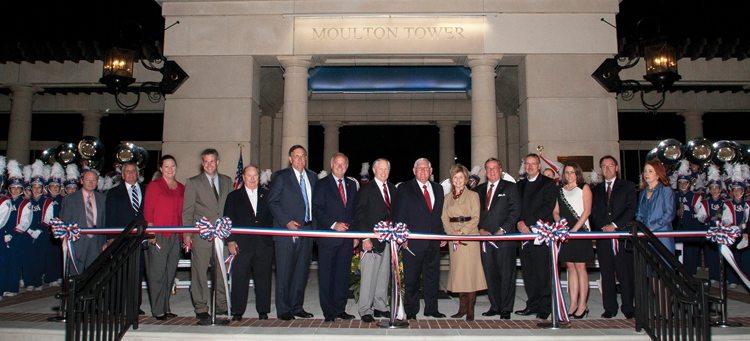 Participating in the 2010 ribbon-cutting at Moulton Tower and Alumni Plaza are, from left, trustees Dr. Steven P. Furr, E. Thomas Corcoran, Christie D. Miree, John M. Peek, Donald L. Langham and Bryant Mixon; U.S. Rep. Jo Bonner; Jim Yance, trustee chairman pro tempore; President Gordon Moulton; Geri Moulton; Dr. Joseph F. Busta Jr., vice president for development and alumni relations; the Rev. Thomas Heard, St. John's Episcopal Church; Kimberly N. Proctor, Student Government Association president; Dr. Jim Connors, Faculty Senate president; and Alexis Atkins, USA National Alumni Association president.