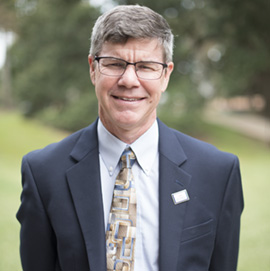 Dr. William E. Gillis
Professor and Chair Management

---
Research Interests
Dr. Gillis's research interests are in franchising from both the franchisor and franchisee perspectives, Healthcare, Organizational theory and change, and organizational form.
---
Education
Ph.D. in Business Administration (Strategic Management)

The Florida State University

MBA

University of West Florida

M.S. History, Russian Area Studies
United States Air Force Academy
---
Publications
Maaloof, J., Combs, J. G., Gillis, W., Perryman, A. (2020). Replicate or adapt? Franchising and organizational routines. Journal of Knowledge Management.

Gillis, W., Combs, J. G., Yin, X. (2020). Franchise management capabilities and franchisor performance under alternative franchise ownership strategies. Journal of Business Venturing.

Whaley, A. R., Gillis, W., Affuso, E. (2017). A Panel Data Analysis of Efficiency and Productivity of the U. S. Hospital Care System. Review of Applied Economics.

Whaley, A. R., Gillis, W. (2016) Leadership development programs for healthcare middle managers: An exploration of the top management team member perspective. Health Care Management Review, 43(1), 11. DOI: 10.1097/HMR.0000000000000131

Harvey, P., Harris, K. J., Gillis, W., Martinko, M. (2014). Abusive Supervision and the Entitled Employee. The Leadership Quarterly, 25, 13.

Gillis, W., Combs, J. G., Ketchen, D. J. (2014) Using resource-based theory to help explain plural form franchising. Entrepreneurship: Theory & Practice.
See More
---
Courses
MGT 485 – Business Policy in a Global Economy
MGT 603 – Seminar in Organization Theory and Change