Welcome from the Chair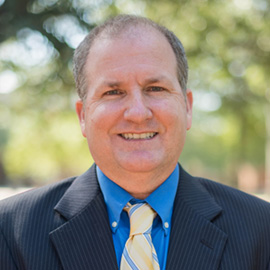 Welcome to the Department of Economics, Finance, and Real Estate!
I invite you to explore our website or to stop by our offices to discuss the opportunities within our department. Our bachelors' program is designed to prepare students for careers in analytical and managerial positions in banking, industry and government. It is an exciting time to major in our department! Our faculty understand the importance of excellence in the classroom, excellence in research, and the benefits of professional guidance and connections.

Our major has three concentrations: economics, finance, and real estate. Economics is chiefly concerned with how individuals, firms, governments and nations make choices on the production, allocation, and consumption of scarce resources. Finance, a specialized area of economics, comprises three main areas: financial management, investments, and financial institutions. Financial management, also known as corporate finance, deals with business decisions made within the firm. Investments focuses on the behavior of financial markets and securities pricing, and financial institutions deals with banks and other specialized firms which bring together the suppliers and users of funds. Students can direct their focus to one of these areas based on the finance electives chosen. Studying Real Estate exposes you to a wide-ranging skillset and prepares you for numerous career opportunities such as brokerage, leasing, development, appraisal, assessment, mortgage lending, property management, and construction.

Regardless of the concentration you choose, student clubs and the Jaguar Investment Fund (JIF) welcome you. Our student chapter of the Financial Management Association (FMA) has consistently earned Superior Chapter Award from FMA International. This highly coveted designation is awarded to less than five percent of FMA chapters. Guest speakers, field trips to local businesses, and the FMA Leaders' Conference in New York City or Chicago are highlights of our activities. In this club you may find an internship before graduation (through guest speakers), network with other finance students from across the nation, or have the chance to tour the New York Stock Exchange or Chicago Board of Trade. In addition, you may be able to participate in the JIF, a student managed investment fund, which is a unique opportunity for select students to gain real money management experience. In this fund, students will serve in a role as a financial analyst along with one other position such as economist, political analyst, accountant, or risk analyst. In our investments course, students will also get certified on Bloomberg Terminals, a necessity to work on Wall Street. Talk about experiential learning–this is it!

For those students with an interest in economics, The Economics Society of South Alabama student club is for you. This club meets regularly during the fall and spring with guest speakers, discussions, movies, etc. Real estate concentration students are eligible to participate in Jaguar Realty, the nation's first University-approved real estate company for real estate students. By participating, students can satisfy their internship requirement, receive scholarship assistance toward their internship course tuition, and have the unique opportunity to work as an active real estate agent with some of the area's top real estate brokerage companies, and hopefully, close deals and earn commissions. Highly qualified students will also be eligible for nomination to Alpha Sigma Gamma, the world's premier international real estate honor society. Finally, all students may complete the Alabama Real Estate Commission pre-license education required to take the Alabama Real Estate Salesperson License Exam.

While a good number of our graduates find professional positions in banks, wealth management firms, industry, and government, our concentrations are a wonderful foundation for those who want to pursue graduate schools. Some of our graduates have gone on to Masters of Science in Finance, Ph.D. programs in economics and finance, and to earn a J.D. degree in law school. These were all at various universities throughout the US.

For those who are not planning to be a business major, we invite you to consider a minor in economics, finance or real estate. Each of these would be an excellent addition to your studies in engineering, math, political science, or any other major. You can still participate in the clubs and have the chance to be a member of the JIF with the proper prerequisites.

Let's discuss why an economics, finance, or a real estate concentration is right for you!
Best wishes,

Kenneth Hunsader, Ph.D.
Chair, Professor, Economics, Finance & Real Estate. Interim Chair of Accounting