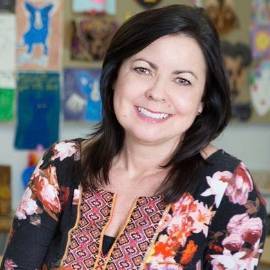 Paige Vitulli, Ph.D.
Chair of the Department of Integrative Studies and Associate Professor in Leadership and Teacher Education

---
Education
B.S., Early Childhood Education, University of South Alabama, 1986

M.Ed., Early Childhood Education, University of South Alabama, 2000

Ph.D., Instructional Design and Development, University of South Alabama, 2006
---
Teaching Philosophy
Each semester I ask myself, what might students who spend time enrolled in one of my classes learn, remember, and value from this experience, now and in the future. What will I ask students to consider, read, discuss, do, or create, which may have a significant impact on them, their future and the students they will teach? Providing meaningful learning experiences that have a positive, substantial, and lasting influence on students' professional and personal lives is what I strive to do. I endeavor to develop student abilities to positively contribute to the multiple communities of which they are a part through the educational experiences I design, model, and mentoring. I believe life-long learning through multiple avenues to increase and improve knowledge, skills, and attitudes should be pursued by all.
---
Research
My research interests have evolved from technology integration and literacy instruction to arts integration across all content areas. The role of integrating the arts has in promoting problem solving and critical thinking is explored in my teacher education roles. Interdisciplinary studies and nontraditional/adult learners are areas of research focus related to my administrative roles and creation of the office of Adult Learner Services. Student-Athlete well-being and academic success are analyzed through my role as the NCAA Faculty Athletic Representative for the University of South Alabama.
---
Outreach
In the community I volunteer in the Mobile and Baldwin County Public School Systems and have been a mentor through Big Brothers and Big Sisters of South Alabama since 2018. I am a member of the University of South Alabama Alumni Board and Chair the Alabama Contemporary Art Center Board. Globally, I was invited by the Confucius Institute of China to tour various universities and cultural sites in Beijing, Shanghai and Xian. I was an invited visiting scholar by the University of Shaoxing, China and taught in the School of Education as well as the Lu Xun preschool and the government preschool..
---
Biography
My background influences the integrated approach I take toward teaching and learning. I have taught a variety of content from preschool to college. As an associate professor at the University of South Alabama, I have taught graduate and undergraduate courses in art education, language arts methods, foundations of reading instruction, action research and instructional design. I have served as the Technology Liaison for the Mobile Bay Writing Project, Assistant Program Director for the 13-year USA Arts in Education grant, and the program director for the graduate Art Education Program in the Department of Leadership and Teacher Education. I am the Integrative Studies (INGS) Department Chair and Leadership and Teacher Education (LTE) Interim Chair in the College of Education and Professional Studies (CEPS). As a member of the Leadership and Teacher Education Department faculty, I teach art education courses for graduate and undergraduate elementary education majors and am the program coordinator for the Graduate Art Education Program. I also chair the Board of the Alabama Contemporary Art Center (ACAC); and serve on the USA National Alumni Association. I developed the Office of Adult Learner Services (OALS) for the university in 2018 and served as interim director until 2019. My position as the USA Faculty NCAA Athletic Representative (FAR) is "to provide oversight of the academic integrity of the athletics program and serve as an advocate for student-athlete well-being." ~NCAA
---
Courses
Undergraduate:
IST 494 - Directed Study: Service Learning

AED 301 - Visual Arts for Young Children

AED 440 - Art in the N-12 Program

AED 441 - Art in the N-12 Program

EDU 301 - Arts in the Elementary School
Graduate:
AED 501 - Trends and Practices in Teaching Art in the Elementary School

AED 540 - Art in the N-12 Program

AED 595 - Art Education Internship