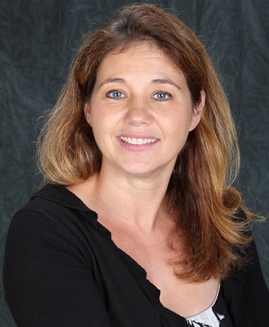 Amy W. Upton, Ph.D., NCC, NCSC
Assistant Professor, Department of Professional Studies School Counseling

---
Education
B.A., Theatre Art, Old Dominion University, 1989
M.Ed., School Counseling, Old Dominion University, 1998
Ph.D., Counselor Education, Old Dominion University, 2012
---
Teaching Philosophy
Teaching is a gift, one that a teacher can share with his or her students. My philosophy on teaching comes from a developmental constructivist perspective and I believe that all students have within themselves the ability to learn and to construct his or her own knowledge. It is the role of the teacher to function not as an imparter of knowledge, but instead as a facilitator, a conductor, and a guide to assist students in adjusting their ways of knowing. A teacher acts to enable students to move from, as Kohlberg stated, a received or conventional way of knowing to a self-authorized way of knowing. This is especially important in the area of counselor education as counselors will later be faced with many ambiguous situations and need to be able to think for themselves and make decisions based on their own analysis of a situation.
---
Research
Dr. Upton's primary research interests are centered around school counselor professional identity and role, best practices in school counseling, principal-school counselor collaboration and school counselor multicultural competency and advocacy, specifically for LGBTQ+ youth in schools.
---
Outreach
Outreach with local and regional school districts and the Alabama State Department of Education is integral to the work that Dr. Upton does at USA.
---
Biography
Dr. Upton is a school counselor educator who spent sixteen years working as a middle and high school counselor prior to becoming full time faculty. She passionately believes in the importance of the profession of school counseling and the impact that school counselors can have on students and the communities in which they work. Raised in Virginia, she and her family moved to the Mobile area in 2013 to work for the University of South Alabama.
---
Courses
CED 565 - Foundations of School Counseling
CED 566 - Multicultural Counseling
CED 569 Counseling Children
CED 576 - Supervised Practicum in Counseling
CED 591 - Advocacy, Collaboration, Consultation
CED 595 - School Counseling Internship
CED 582 Data Driven School Counseling
EPY 521 - Human Development and Behavior
CED 574 - Group Counseling Theory and Process