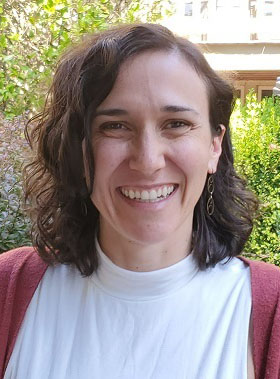 Meredith Tittler, Ph.D.
Assistant Professor, Counseling and Instructional Sciences Clinical and Counseling Psychology Doctoral Program

---
Dr. Meredith Tittler will review applications for the Clinical and Counseling Psychology doctoral program for the 2024-2025 academic year.
Learn more about the graduate program and application process.
---
Education
B.A., Psychology, Clark University
M.S., Counseling Psychology, Iowa State University
Ph.D., Counseling Psychology, Iowa State University
Internship, Student Counseling Services, Iowa State University
Post-Doctoral Research Fellow, Portland Psychotherapy Clinic, Research, and Training Center
---
Teaching Philosophy
My teaching is influenced both by my counseling training and by theories of critical consciousness and social justice education. Similar to the therapeutic process, I believe learning and growth happens best when students feel respected, supported, and held in high esteem. I use theories of motivation to guide my teaching to create opportunities to build students' intrinsic motivation. I am mindful of incorporating opportunities for my students to experience their growing competencies and to connect with their personal values. I also teach students how to become critical thinkers and consumers of knowledge and to understand the socio-cultural "waters we swim in", the roles our social identities play in our and others' experiences in the world, and how to leverage this knowledge to promote values of equity and inclusion in ourselves, each other, and the communities we serve.
---
Research
My research interests have focused on a blend of intervention outcome research, specific intervention ingredients research, and basic research focused on answering the question of how to increase individuals' engagement in social justice behaviors. My recent research has focused on White individuals' engagement (and disengagement) in behaviors promoting racial equity. My recent projects have looked at:
Applying basic emotion research methods and referencing Whiteness literature to study White racial affect including "White guilt" and "White shame"
Testing and assessing the effectiveness of interventions to increase White individuals' likelihood to engage in racial dialogues and conversations
---
Recent Representative Publications
Tittler, M.V., Luoma, J.B., Wade, N.G., & Wei, M. (2023). Effects of a White privilege framing and a test of moderators. Current Psychology. Advance online publication. https://doi.org/10.1007/s12144-023-04671-5
Tittler, M.V., & Wade, N.G. (2022). Gender group composition and outcomes of group interventions to promote forgiveness: Replication and extension. Group Dynamics: Theory, Research, and Practice, 26(2), 119-136. DOI: 10.1037/gdn0000154
Tittler, M.V., Lannin, D.G., Han, S., & Wolf, L.J. (2022). Why personal values matter: Values, colorblindness, and social justice action orientation. Current Psychology, 41, 5075-5087. DOI: 10.1007/s12144-020-01006-6
Tittler, M.V., Liu, S., Wei, M., Cheng, D., & Wang, C. (2021). Concerns about counseling racial minority clients: Ethnocultural empathy, insight, and multicultural intervention self-efficacy. Training and Education in Professional Psychology. Advance online publication. DOI: 10.1037/tep0000333
Tittler, M.V. & Wade, N.G. (2019). Engaging White participants in racial dialogues: Group composition and dialogue structure. Group Dynamics, 23(2), 75-90. DOI: 10.1037/gdn0000099
---
Biography
I grew up outside of Boston, MA and have lived in several cities/states in the U.S., including Iowa, Portland, OR, and Denver, CO. Although, I grew up in the northeast, I made frequent trips 'down south' to visit extended family growing up and find Mobile, AL feels surprisingly familiar and "homey". Prior to starting graduate school, I served in the Peace Corps for three years in the Dominican Republic. That experience built on a passion of mine to explore the ways we are all different and also the same – and to find creative ways to move through internal and external barriers to create genuine connection across social identities and cultures. In my free time I enjoy running, yoga, gardening, hanging out with my dog and family and friends, and exploring new and old places.