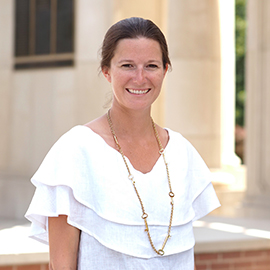 Hannah Szatkowski
Assistant Professor, Department of Leadership and Teacher Education K-12, Reading

---
Education
B.S., Elementary Education, Auburn University, 2011
M.Ed., Reading Education, University of West Florida, 2015
Ph.D., Reading Education, Auburn University, 2019
---
Teaching Philosophy
I strive to create authentic and engaging opportunities for my students to flourish and develop as future educators and individuals. I am committed to reflecting and growing as an educator. I believe that through collaborative and research-based practices all students and educators can succeed.
---
Research
My research focuses on reading and instructional design as it relates to early and emergent literacy. I am particularly interested in effects of team-based learning and authentic instruction in student-centered learning environments.
---
Outreach
I currently serve as the program coordinator and faculty advisor for the traditional Early Childhood and Elementary Education master's programs, the Reading Specialist master's programs, and the undergraduate Early Childhood add-on certification. As a result, I am continually working with other program faculty to meet the needs of our students through innovative and research-based initiatives that strength and develop our programs. In addition, I am a national LETRS facilitator.
---
Biography
I received a bachelors in Elementary Education from Auburn University in 2011. In 2015, I earned a masters in Reading Education from the University of West Florida. I earned my doctorate in Reading Education, from Auburn University, in 2019.
I grew up and currently reside in Pensacola, Florida. I am a mother of two boys who continue to push me to learn more about literacy and language acquisition.
---
Courses
EEC 300 - Creating Environments for Learning and Play
EEC 346 - Early Childhood Program
EEC 557 - Elementary Practicum
EEC 595 - Elementary Internship
EEC 699 - Research Project
EDU 330 - Foundations of Reading Instruction
EDU 331 - Teaching Reading
EDU 336 - Teaching Social Studies
EDU 345 - Field Experience
EDU 430 - K-6 Internship
EDU 495 - K-6 Internship Special Education
EDU 348 - P-3 Education
EDU 398 - P-3 Field Experience
RED 520 - Reading Foundations
RED 348 - Language Development in Early Childhood
RED 533 - Diagnosing and Correcting Reading Disabilities
RED 534 - Remedial & Clinical Procedures in Reading