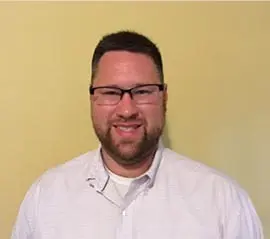 Todd Johnson, Ph.D.
Associate Professor, Department of Leadership and Teacher Education Area: Special Education

---
Research
B.B.A., Management-Human Resources, James Madison University, 1999
M.Ed., Special Education, George Mason University, 2005
Ph.D., Special Education and Research Methods, George Mason University, 2016
---
Teaching Philosophy
I chose a career in education because I enjoy teaching and believe that learning is an empowering endeavor for those who engage in it. The ultimate value of each and every student requires teachers that are prepared to support the diversity of learning needs that they are sure to experience in their classrooms. As a teacher educator, I seek not only to instruct future teachers on specific concepts and techniques, but also to inspire them to be passionate about their craft and their own development as an educator. As the number of students with various disabilities accessing the general education curriculum grows, so must the skill-sets of teachers. In my courses I seek to expose future teachers to authentic learning tasks that require thoughtful consideration of legislative requirements, educational theory, and real-world contexts that impact students with disabilities accessing the general education curriculum. Elliot Eisner stated, "The kinds of nets we know how to weave determine the kinds of nets we cast. These nets, in turn, determine the kinds of fish we catch…" To stick with Eisner's metaphor, I hope that those who take my courses leave knowing how to weave many kinds of nets. I also hope they leave inspired to stay out on the lake until the last fish is caught.
---
Research
My current research interests involve understanding the cognitive processes that students engage in while negotiating mathematics and science curriculum, and the psychological self-constructs (e.g., self-efficacy, self-concept, interest, anxiety) that impact students and teachers during teaching and learning. Specifically, I am concerned with improving outcomes for struggling students, and in particular, high school students with disabilities who access the general education curriculum. I am currently involved in research on curricular interventions for high school chemistry that focus on mathematical problem solving. I am also involved in research on pre-service and in-service teachers who may provide instruction to students with disabilities. In particular, I am interested in co-teaching and examining how characteristics of co-teaching partners impact the co-implementation of instructional strategies.
---
Outreach
I currently serve on the Undergraduate Candidacy committee in the College of Education. I also serve as a reviewer of manuscripts for a number of publications including: Remedial and Special Education, Intervention in School and Clinic, and LD Forum (the official newsletter of the Council for Learning Disabilities). As a new faculty member, I look forward to establishing relationships within the schools of Mobile and Baldwin Counties and identifying opportunities to contribute to educational activities in these communities.
---
Biography
I was born and raised just outside of the nation's capital in Fairfax, VA. Prior to coming to the University of South Alabama, I was a high school teacher in Fairfax County, VA for nine years where I taught Geometry and Chemistry to students with and without disabilities. I also maintained a caseload of students with emotional disabilities and taught a class designed to address their learning and emotional needs. I earned both a Master's degree and Ph.D. in Education from George Mason University, with a focus on Special Education and Research Methods. I now live with my wife and two kids in beautiful downtown Daphne just across Mobile Bay. I enjoy spending time with my family and participating in various activities at church, school, and in the community.
---
Courses
EDU 313 – Learning and Behavior Disorders