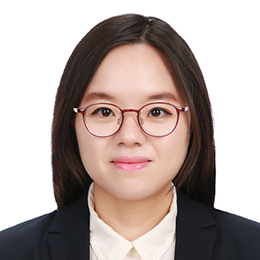 Eunmin (Min) Hwang, Ph.D.
Assistant ProfessorDepartment of Hospitality and Tourism Management

---
Education
Ph.D. 2020 Hospitality Administration, University of Nevada, Las Vegas
M.S. 2010 Hotel Management, University of Houston, Texas
B.S. 2006 Hotel Administration, University of Nevada, Las Vegas
---
Teaching Philosophy
Dr. Hwang genuinely cares about teacher and student interactions. She believes successful student learning can be achieved by building a welcoming class environment to engage and ask questions freely. Every semester, she shares with her students that the students'
and educators' time and efforts should be appreciated with respect. She also believes that successful learning should last a lifetime and stay with the students when they encounter challenges outside the classroom. As a faculty advisor for the Eta Sigma Delta Honor
Society, she works on building a studious atmosphere and highlighting the importance of networking with industry professionals.
---
Research
Dr. Hwang's research agenda is dedicated to developing a consistent stream of high-quality research focused on consumer behavior in the Hospitality and Tourism Industry, especially in Food & Beverage sector. Although the study contexts vary, her research agenda aims to explore meaningful elements in consumer behaviors and use them to design personalized and memorable customer experiences and, ultimately, prolong positive behaviors that may contribute to better public health and sustainability.
---
Biography
Eunmin (Min) is an Assistant Professor in the Department of Hospitality and Tourism Management. Originally from South Korea, she has always had a passion for teaching and research. She spent more than half of her time in the U.S. in Las Vegas and worked in multiple positions in the Hospitality industry. She constantly works on gaining the needed
experience and knowledge to become a skilled educator. She is a Certified Hospitality Educator and a Certified ServSafe Instructor and Proctor. She has a Hotel Industry Analytics Certification and is certified to teach Advanced Hospitality and Tourism Analytics.
---
Courses
• HTM 220 Meetings, Incentives, Conventions,
• HTM 210 Food & Beverage Service Management
• HTM 212 Food Sanitation and Safety
• HTM 330 Cruise Operations
• HTM 396 HTM Career Planning
• HTM 435 Quality Service Management (W)
• HTM 445 HTM Financial Reporting