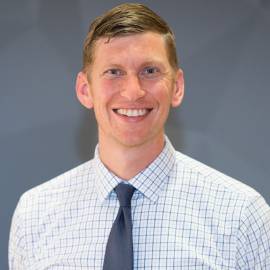 Drew Gossen, PhD.
Assistant Professor Department of Leadership and Teacher Education

---
Biography
I am originally from a small town in northwest Oklahoma. I received my bachelor's degree in education from Oklahoma State University and my master's degree in educational leadership from Southwestern Oklahoma State University. I taught for five years in Stillwater, OK and six years in Piedmont, OK. During my time in the K-12 schools, I taught a variety of grade levels and courses in science and mathematics and coached several sports. I spent four years as a graduate teaching and research assistant while completing my PhD at Oklahoma State University. I moved to Alabama in 2021 to begin my position at South, and am loving the transition to the Gulf Coast! I live on the eastern shore of Mobile Bay in the town of Daphne along with my wife and kids. We enjoy getting outside, hiking, going to the beach, and finding new adventures.
---
Teaching Philosophy
I believe teaching is the greatest vocation on Earth. Teachers help shape the world through their influence on students of all ages, and have the opportunity to help students become lifelong learners. My role as a teacher of future teachers is to help them develop the skills necessary to be effective in their own classrooms while recognizing the significance of their contributions to their own students' education.
When these preservice teachers come into my classroom, I want them to be a part of a culture of inquiry—where questions, failures, and 'aha' moments are a normal part of the learning process. I strive to model effective teaching strategies while the students learn scientific knowledge and skills alongside teaching methods. Students will consider the principles of how students learn and develop curriculum and teaching approaches that fit these principles. Most of all, I want teachers to leave my classroom excited to teach science!
---
Research
My research comprises two main areas: (1) student learning experiences and STEM beliefs, and (2) STEM teacher preparation.
My research with K-12 students examines the types of learning experiences these students have and how those experiences influence their STEM beliefs and goals. Learning experiences happen in a variety of learning environments, and while this starts with the things that happen in the classroom, there are many opportunities for students to learn outside the classroom as well. Informal learning environments such as STEM camps, science centers, museums, and even family activities have an impact on students' beliefs about their own STEM abilities and eventually their desire to pursue a STEM career.
My research with teachers involves the development of science content knowledge and pedagogical skills as a preservice teacher and ongoing classroom support for inservice teachers. As preservice teachers make the transition from college student to classroom teacher, they need to understand scientific content, skills, and pedagogy. This is a significant challenge, and we are looking for ways to improve this process for all students. As teachers navigate STEM teaching in the classroom, they are sometimes left with poor guidance or support to develop effective curriculum. I am exploring these issues with the goal of improving teacher performance to enhance student learning in the classroom.
---
Outreach
I am involved in multiple projects with the goal of improving STEM learning and supporting the STEM career pipeline in the region. One project focuses on connecting local elementary and middle school STEM teachers to each other and to the university. This community of teachers will help new teachers develop more quickly, connect inservice teachers with needed resources, and give experienced teachers an opportunity to mentor and serve others. Another project emphasizes connections between local schools, the university, and industry in the development and maintenance of an engineering pipeline.
---
Courses
Undergraduate:
EDU 337 Teaching Science
EDU 345 K-6 Education
Graduate
EEC 537 Teaching Science
EEC 590 Special Topics in Science Education
EEC 595 Internship in Elementary Education
EEC 598 Internship in Early Childhood Education