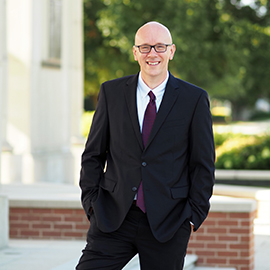 R. Allan Allday, Ph.D.
Chair, Associate Professor Department of Leadership and Teacher Education

---
Education
Ph.D. 2004 Special Education, Auburn University
Minor Area of Study: School Psychology
M.Ed. 2000 Special Education, Auburn University
B.A. 1998 Psychology, Auburn University
---
Biography
R. Allan Allday is the Department Chair and Associate Professor in the Department of Leadership and Teacher Education. His professional focus is working to improve outcomes of children and youth who exhibit behaviors that interfere with their social functioning. Dr. Allday's research focuses on how adult behavior affects child behavior. He focuses on finding simple changes to adult behavior that improves a child's outcomes. Dr. Allday provides consultation, using principles of applied behavior analysis (ABA), to schools and families to support their work with a child exhibiting challenging behaviors. He is a Board Certified Behavior Analyst – Doctoral (BCBA-D®) and a Licensed Behavior Analyst in Alabama. Dr. Allday has primarily taught courses related to ABA and behavioral consultation. He has also taught courses related to classroom and behavior management, characteristics of emotional/behavioral disorders, single subject research, ASD, and instructional methods for mild/moderate disabilities. In his free time, Dr. Allday enjoys spending time with his wife and four children.