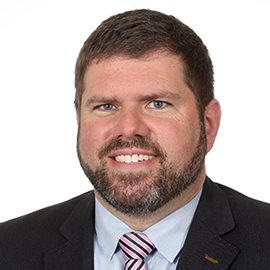 Philip Habel
Professor and Department Chair Department of Political Science and Criminal Justice

---
Sabbatical, 2023-24
For the 2023-24 academic year, Dr. Habel received a U.S. Fulbright Distinguished Scholar Award to Maria Curie-Skłodowska University in Lublin, Poland, where he has also been appointed University Professor. During late August and September 2023, Dr. Habel was appointed Visiting Fellow at the Collegio Carlo Alberto in Turin, Italy.
Education
B.A. Washington University, 1999
Ph.D. University of Illinois Urbana-Champaign, 2006
---
Biography
Dr. Habel came to the University of South Alabama in July of 2017 from the University of Glasgow in Scotland, where he was Senior Lecturer in Politics. Prior to that, Dr. Habel was a professor at Southern Illinois University in Carbondale, Illinois. He received his PhD from the University of Illinois Urbana-Champaign.
Dr. Habel's work in political communication and political behavior examines the dynamics of influence and information flows among politicians, media, and the public. Recent projects apply computational social science and big data analytics to explore topics of conversation on social media, and how these topics evolve over time. Dr. Habel's research has appeared in both leading social science journals----including Political Communication; Information, Communication & Society; Political Analysis---and in high impact Computer Science conference proceedings. His work has been cited more than 700 times according to Google Scholar metrics. Dr. Habel's teaching is informed by both U.S. Politics and Comparative Politics, including course offerings in public opinion; mass media, digital media, and social media; political communication; and U.S. politics.
Dr. Habel serves as the Chair of the Department of Political Science and Criminal Justice, leading undergraduate programs in Criminal Justice and Political Science, and a graduate program in Public Administration.
---
Research & Teaching Interests/ Availability for Media Commentary

U.S. Government; Political Communication; Mass Media; Social Media; Public Opinion; Political Behavior; Political Psychology; Campaigns & Elections; European Politics; Latin American Politics; Computational Social Science; Research Methods
---
Example Publications

Habel, Philip and Yannis Theocharis. 2019. "Citizens, Elites, and Social Media: Methodological Challenges and Opportunities in the Study of Persuasion and Mobilization" The Oxford Handbook of Electoral Persuasion. Eds. Bernie Grofman, Liz Suhay, and Alex Trechsel. New York: Oxford University Press. Available Online.

Fang, Anjie, Philip Habel, Iadh Ounis, Craig Macdonald. 2019. "Votes on Twitter: Assessing Candidate Preferences and Topics of Discussion During the 2016 U.S. Presidential Election." SAGE Open January-March 2019: 1-17.

Habel, Philip, Ruth Moon, and Anjie Fang. 2018. "News and Information Leadership in the Digital Age." Information, Communication and Society 21: 1604-1619

Valeriano, Brandon and Philip Habel. 2016. "Who Are the Enemies?: The Visual Framing of Enemies in Digital Games." International Studies Review 18: 462-486.

Fang, Anjie, Iadh Ounis, Philip Habel, Craig Macdonald, and Nut Limsopatham. 2015. "Topic-centric Classification of Twitter Users' Political Orientation." in Proceedings of the 38th Annual International ACM SIGIR Conference on Research and Development in Information Retrieval.

Habel, Philip. 2012. "Following the Opinion Leaders?: The Dynamics of Influence among Media Opinion, Politicians, and the Public." Political Communication 29: 257-277.