HEART Vision, Mission, and Values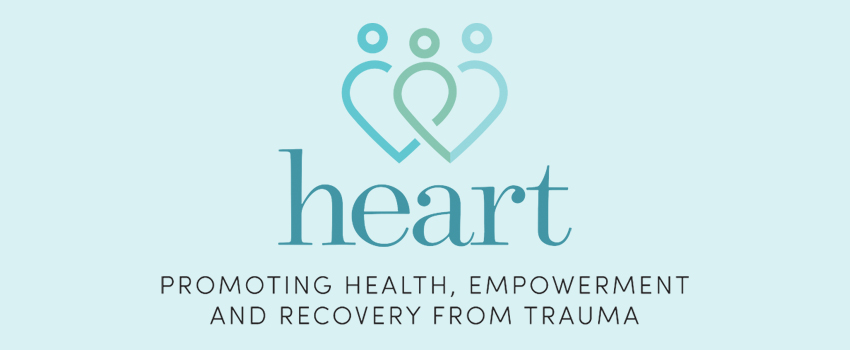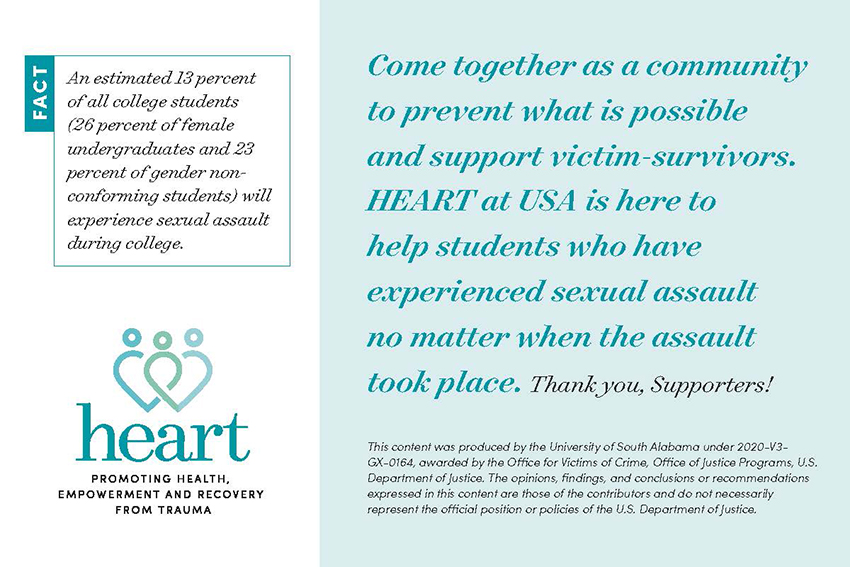 Spring Week of Action April 4-8, 2022

Painting our Campus Teal
Wear teal to show support. Take a selfie or group photo and tag HEART on Instagram @uofsouthal_heart.



Stop the Silence: Survivors Speak Out
7-8:30 pm
Student only event in the Student Center Ballroom.

Start By Believing Day
Share a quick video of why you start by believing when someone tells you they have been sexually assaulted. Tag HEART on Instagram @uofsouthal_heart.

Consent Q & A
Learn more from HEART team members and student ambassadors.



Chalk for Consent
Look around campus' sidewalks for messages about consent.



Ribbon Cutting Ceremony
2:00 pm
Student Health Center.
Vision
A violence-free campus community where victims & survivors of interpersonal trauma1 feel safe and supported in their healing journey so that they may be empowered to live their healthiest lives.
Mission
To both prevent sexual violence2 on campus and provide holistic, trauma-informed clinical and recovery-oriented services to South students who have experienced sexual violence2 in an inclusive, non-judgmental, and confidential environment.
Values
We believe people affected by interpersonal trauma1 deserve compassionate, culturally-responsive care that adheres to best practices and continuously strives for excellence. In line with this guiding belief, we hold the following values:
Additional HEART services coming Spring 2022. For current services related to sexual assault, contact a support advocate by calling (251) 460-7151 (during regular office hours) or (251) 341-9884 (after office hours).
National Sexual Assault Telephone Hotline

1 Trauma that occurs between two or more people. Examples include but are not limited to: child abuse (including physical, sexual, and emotional abuse, neglect, and witnessing violence), sexual assault/rape, intimate partner violence/domestic violence, stalking, historical trauma (the pervasive oppression and violence toward a group or culture over years or generations), and war and torture (Mauritz, M. W., Goossens, P. J., Draijer, N., & van Achterberg, T. (2013). Prevalence of interpersonal trauma exposure and trauma-related disorders in severe mental illness. European journal of psychotraumatology, 4, 10.3402/ejpt.v4i0.19985. https://doi.org/10.3402/ejpt.v4i0.19985).
2 Any sexual act, attempt to obtain a sexual act, unwanted sexual comments or advances, or acts to traffic, or otherwise directed, against a person's sexuality using coercion, by any person regardless of their relationship to the victim, in any setting, including but not limited to home and work.
This website was produced by the University of South Alabama under 2020-V3-GX-0164, awarded by the Office for Victims of Crime, Office of Justice Programs, U.S. Department of Justice. The opinions, findings, and conclusions or recommendations expressed in this website are those of the contributors and do not necessarily represent the official position or policies of the U.S. Department of Justice.