South Students Participate in Mass Casualty Drill
---
Posted on November 17, 2016
Alice Jackson
---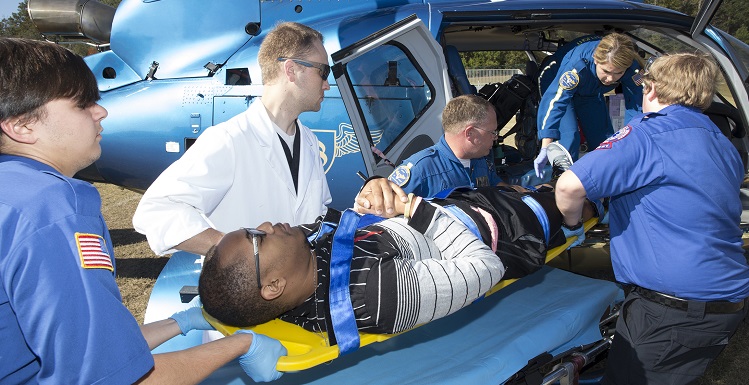 South students in the emergency medical services program load a "victim" onto a helicopter for treatment at a local hospital during an annual disaster drill held Thursday on campus.
---
University of South Alabama student Percy Shuford, 22, from Prattville, Ala., learned Thursday what it means to be shot and near death.
Shortly after 9 a.m., he laid on the floor inside a University building as emergency responders arrived. Minutes earlier, law enforcement had entered the building, quickly detained a supposed mass shooter, then called for emergency medical personnel to treat Shuford and other wounded people. A red tag attached to Shuford's clothing identified him as critically injured and bleeding heavily, having suffered two gunshot wounds to his abdomen.
"I laid on that floor, thinking a lot about my future and what I would be doing when this was over," Shuford said.
That's because Shuford, an emergency medical services student at South, was one of 64 students in the department who participated in one of the largest disaster drills held annually in the area. The drill served as a test for EMS students, but it included students in the physician assistant program along with local ambulance services, fire and rescue departments and the Alabama National Guard, the U.S. Army Reserve and the U.S. Army.
The script called for an incident resulting in multiple shooting victims on the campus' north side. Victims like Shuford were quickly examined at triage units, then transported by ambulance to South's intramural fields where two helicopters waited to airlift the most critically injured victims to hospitals. Several tents held patients waiting for the airlift. Inside one tent, designated as the suture tent, physician assistant students used bananas as substitutes for wounded patients.
"My hands keep shaking," declared one young woman, carefully punching through a ripe banana under the eyes of watchful instructors.
For Shuford, who will graduate in 2018, the drill made him focus on the importance of teamwork in his chosen career.
"There is no such thing as a solo act in situations like this," Shuford said. "There's a lot of chaos even in a drill for mass casualties, but you have to keep a cool head and work together because things can always go wrong."
Shuford hadn't even planned to attend USA until he attended a USA Day event with a younger brother.
"I wandered over to the EMS program booth, and I had an interesting conversation with them," Shuford recalled. "After that, I knew exactly where I wanted to be and what I wanted to do."
Twenty-seven-year-old Mike Flach of Ocean Springs, Miss., already had a bachelor of science degree in biomedical studies and was working at the Mobile Fire-Rescue Department when he decided to add a paramedic degree to his education. He now works for a local ambulance service, and he'll graduate from the program in December.
"I ended up loving this work," Flach said. "People depend on us to do for them when things aren't going well, and that's what this training today is all about. We had a few hiccups today, but that's part of the learning exercise for the real thing."
Scotty McArthur, instructor of the EMT and paramedic program, said communications had been a problem during the drill, but that "communication is always the biggest challenge in a drill and in real disasters."
"Overall, the drill went well," McArthur said. "The students learned a lot, and we all added to our experience."
---