Children from Poarch Band of Creek Indians Visit South for Art and Archaeology Day
---
Posted on July 13, 2016
Alice Jackson
---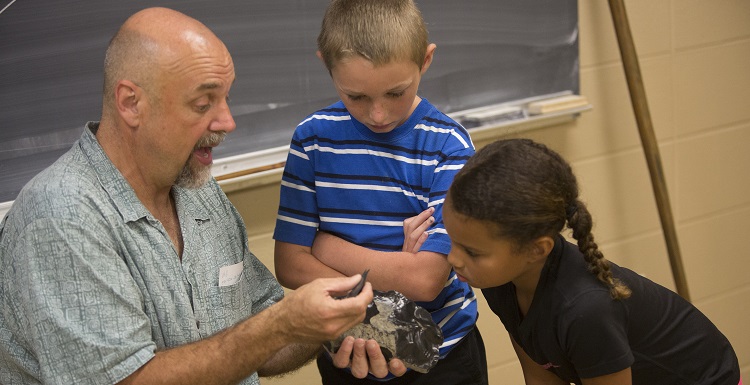 Dr. Phil Carr, Chief Calvin McGhee Endowed Professor of Native American Studies, gives a hands-on archaeology lesson to Kolby Rayborn and Kylie Langham during Art and Archaeology Day.
---
Almost 200 school children from the Poarch Band of Creek Indians learned about archaeology, art and music this week from faculty and graduate students and toured museum exhibits during Art and Archaeology Day on the University of South Alabama campus.
Monday's day-long camp resulted from a partnership between the University and the Poarch Band of Creek Indians, which sponsors the Native American Studies Program in the department of sociology, anthropology and social work. The campers were split into small groups that rotated through their classes.
"We want to increase their interest in art, archaeology and music while also ensuring they are having a good time," said Dr. Phil Carr, Chief Calvin McGhee Endowed Professor of Native American Studies. "For some of them, this is their first visit to a college campus, and we want them to learn new things and to feel comfortable on a college campus."
Carr, who usually lectures inside a classroom to students seated at desks or around tables, changed his routine on Monday, directing his 7-year-old students to sit on the floor around his chair. Then, he began explaining about the earliest tools used by prehistoric man, including how they learned to break rocks to make sharp implements for cutting meat and animal skins.
"We solve many of our problems by using tools, but our ancestors first had to solve the problem of not having strong enough teeth or nails to do some things," Carr said. "Eventually, they learned to split rocks to create cutting tools."
To demonstrate, Carr used a small rock to strike a large piece of obsidian rock, breaking off a sharp section. Then, directing two children to hold some leather, he used the piece of obsidian to slowly slice through the leather. Building on the demonstration, Carr gradually led his audience to understand how larger and better rock implements were developed until, finally, rocks were used to whittle out trees for canoes.
A small voice came from the group. "Then, they put the canoes on trucks?"
Carr, fighting back a smile, said, "No, there weren't any trucks or cars in those days, so they put the canoes into the water and floated to other areas where they traded rocks or the tools they'd made. In the earliest days, they actually traded for rocks if the rocks they needed weren't in their area."
"This has been my favorite class, except for maybe where we were feeling the bear fur in the other place," said student Kolby Rayborn.
"My favorite was the chief!" declared Kylie Langham.
The "other place" was the Archaeology Museum, where students toured exhibits of prehistoric Alabama, including Moundville, and up to modern-day life. The museum, which is open to the public, includes numerous artifacts dug from archaeological sites in Mobile and around the area.
Before the tour, Candice Cravins, education curator, prepared the students for what they wouldn't see in the museum.
"There are no dinosaurs, no whips and no crystal skulls in this museum," she said. "Many of you think of archaeology as being like the Indiana Jones movies, but this is a real archaeology museum."
In the museum's lobby, students sat at tables where they learned how archaeologists do assessments of found objects. Each student was given several objects and told to draw them, determine what they were made of, what they could have been used for and who could have owned them.
"This is a wonderful day for these students," said Donna Koehrsen, one of the camp's counselors. "Later in the week, they'll visit Moundville, so they will use what they have learned here."
Inside the Terrace Room of the USA Student Center, another group followed directions from College of Education Associate Professor Dr. Paige Vitulli and several graduate students on how to make various artworks they could take home. Some students did freehand painting while others tried their talents with block printings.
And inside the rehearsal room of the Laidlaw Performing Arts Center, Associate Professor of Music Dr. Jeannette Fresne taught them how to put movement and words to a story.
"We hope this is just the beginning of what we and Dr. Karla Martin, who is director of cultural programs for the tribe, can come up with for the students," said Carr. "We hope to do more programs like this one, and we are looking forward to taking some of our professors to the reservation for programs in the future."
---