Frequently Asked Questions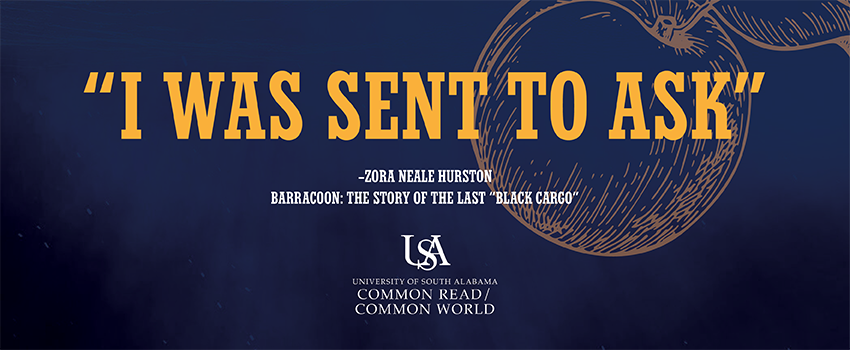 ---
What is the Common Read/Common World?
Common Read/Common World, USA's Common Read Experience is a voluntary, campus-wide reading program. Students, faculty, and staff are invited to read the same book and participate in discussions and activities in the classroom and on-campus. Common Read/Common World supports the university's mission of providing high-quality teaching, research, public service, and healthcare that create, communicate, preserve, and apply knowledge in service to Alabama as citizens in a global world. The program supports Goal One of the Strategic Plan: Build upon the academic quality and learning environment of the University.
Why should I participate?
The Common Reading Experience provides:
An introduction to academic expectations and intellectual engagement
A common experience with peers and faculty
Opportunities for self-reflection and critical thinking
A powerful, meaningful, and fun experience
How will the text be used?
The book may be used in various courses as determined by faculty. There will be events including films and performances, a lecture series, discussion groups, and much more. See the upcoming event schedule for more details.
Is participation required?
Participation is not a University requirement, but the book may be incorporated into the curriculum. Faculty, in various disciplines, may require the book in their courses.
How do I get a copy of the book?
Copies are available for purchase at the USA Bookstore and at your local bookstore. Copies are available for loan at the University Library. If you are a student with a documented disability and wish to request this text in an alternate format, please contact the Center for Educational Accessibility & Disability Resources at (251) 460-7212. No alternate format copies will be supplied without proper documentation. If you are faculty or staff and are interested in participating in this program or reviewing the text, please email commonread@southalabama.edu.
How is the book selected?
The Common Read/Common World Committee considers the following criteria when selecting the Common Read:
Potential to engage students and spark passionate discussion
Appeal to a wide range of students
Possibilities for classroom use among various departments, including First-Year Experience
Inclusion of cross-cultural education, awareness, knowledge and sensitivity
Possibilities for campus programming
Richness of themes; interdisciplinary in nature
Relevance to student life
Available in paperback
400 pages or less
How can I recommend a book?
Faculty, staff, and students are encouraged to submit recommendations for future selections. Submit an online recommendation.
How can I learn more about the book and/or author?
To learn more about "Barracoon: The Story of the Last 'Black Cargo,'" visit this link.
How can I get more information about the program and/or the book?
If you need more information than what is available on our website, please email commonread@southalabama.edu