Gordon Moulton In Memoriam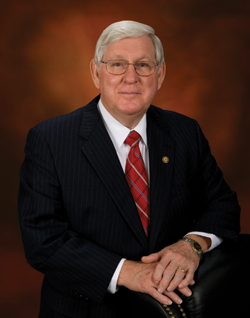 Growing up on a farm in southwest Georgia had prepared an 18-year-old Moulton for the rigorous task of attending the Georgia Institute of Technology as a co-op student. After receiving a hard-earned degree in industrial management, he was awarded a full scholarship for graduate school at Emory University. In 1966, Moulton joined the faculty of the brand-new USA College of Business.
He served as director of computer services, dean of administrative services and a 15-year appointment as vice president for services and planning.
In 15 years as president, Moulton "transformed the University into one of the nation's finest educational institutions, a community partner that sets the tone of excellence, and he created an economic development engine at the University that provides countless jobs and resources for citizens throughout Mobile and the region," said former USA trustee Sam Jones.
Under the leadership of President Moulton, the University has achieved significant milestones in every area, including student enrollment and graduation, academic program development, healthcare delivery, enhancement of student life and the campus environment, research funding, private sector giving, community involvement and economic enhancement, and the list goes on and on.
Moulton's contributions have been widely praised by the community. He was awarded the Civitan Mobilian of the Year award in 2002, and the Moultons' service was forever commemorated in 2009 with the naming by USA's Board of Trustees of the new landmark Gordon and Geri Moulton Bell Tower and Alumni Plaza.
Moulton retired in 2013, shortly before his death.