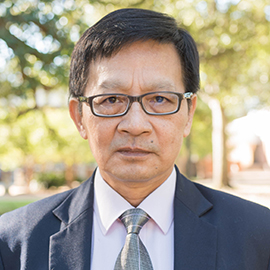 Dr. Ko Hsu
Associate Professor Accounting

---
Research Interests
Knowledge transfer
Accounting Information Systems Analysis
Cloud Securities
Forensic Accounting
---
Education
Ph.D., Accounting, University of Memphis, 1993
M.S., Business Administration Science, Iowa State University, 1988
M.S., Accounting, Illinois State University, 1985
B.S., Accounting & Business Administration, 1984
---
Credentials
---
Publications
"Analysis of Variance with Summary Statistics in Microsoft Excel," American Journal of Business Education, 2007, Vol. 3, Number 4, pp. 7-12.

"An Analysis of State Income Tax Instruction Readability for the Midwest Region," Regional Business Review, 2007, Vol. 26, Issue 1, pp. 72-84.

"Readability Assessments of Income Tax Instructions for Individuals in the Southern States," Southern Business & Economic Journal, 2007, pp. 10-18.
See More
---
Courses
Principles of Accounting II (ACC 212)
Accounting Information Systems (ACC 341)
Advanced Auditing (ACC 452)