German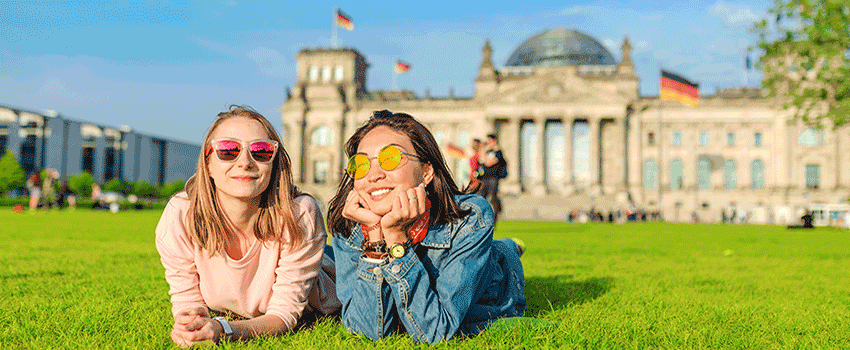 German is a concentration option for students at the University of South Alabama pursuing a Bachelor of Arts in Modern Languages. Students can also choose German as a minor. Students in the program take language courses that focus on German Studies, which includes the literature and rich cultural heritage of the almost 100 million speakers of German in Germany, Austria and Switzerland.
Careers in German
German is the most widely spoken language in Europe. It has the fourth strongest economy in the world, and is the third largest exporter worldwide. MIT economist Albert Saiz has calculated that knowing a second language can boost lifelong earnings by 2%, while knowing German in particular boosts earnings by 3.8%, by far the highest language premium of any European language. Not only are German companies the fourth-largest foreign employers in the U.S., accounting for more than 674,000 jobs, but German-owned companies account for 22% of all Foreign Direct Investment in Alabama, topping all other countries. Germany is also at the top of the list of foreign-owned companies in Alabama with 72 (along with 12 Swiss-owned and 5 Austrian-owned companies). Knowing German will give applicants a definite advantage at any one of these companies. German is a vital language for technical and scientific fields and also offers a rich cultural heritage in literature, music, and visual and performing arts.
Study Abroad
All faculty in Modern and Classical Languages & Literature firmly believe in the crucial importance of experiencing the language first-hand, and afford all of our majors the opportunity to study in a country in which their language is spoken. Since 1986, USA has maintained a direct exchange with the Universität Passau in Germany. Under this program, students can spend a semester or a year studying in the beautiful city of Passau. South also has an exchange with the University of Cologne in Germany. All of our majors receive a study abroad grant to support study abroad, and Passau students are usually supported with additional funds.
Additionally, the USA Mitchell College of Business operates an exchange with the Fachhochschule Worms, although non-business students may also apply. Students have the opportunity to spend a term there as well.
German Scholarships
In addition to the study abroad stipends, South offers the Goessling Scholarship each year to an outstanding upper-level German student. Students may also be eligible for the Dyess and Stock Awards. See Scholarships for more information.
▼ German Program Structure
Since the ability to understand and evaluate another culture can only be attained when the language has been mastered, a series of German language courses on several levels forms the heart of the curriculum. The introductory sequence, which satisfies the Arts and Sciences proficiency requirement, offers students the opportunity to learn to understand and pronounce spoken German, communicate on a variety of everyday topics, read basic texts, and become familiar with the essential points of grammar.
The intermediate sequence deepens the four skills of listening, speaking, reading and writing; completes the coverage of the grammar; and enables students to read most texts and express themselves in written essays.
Language courses at the advanced level further refine and practice these skills. Culture and literature, which are introduced both informally and systematically during the first two years, receive more specific attention in the regularly offered upper-level civilization and literature courses and in special-topics courses and seminars.
In recent years, topics for the latter have included the fairy tale, phonetics, modern drama, and German unification. Upper-level literature and culture courses are taught predominantly in German in order to further strengthen linguistic competence, and in addition to the transmission of knowledge about these cultural phenomena, the courses attempt to provide the critical skills for understanding and evaluating them.
Together, with the other language sections at South, the German section cooperates in offering courses on world literature in translation, European cinema, and modern literary theory and criticism. Interdisciplinary courses with English and International Studies will supplement these offerings in the near future. Although the Department does not offer any graduate degrees, it is able to offer courses for graduate credit that may be counted toward other degree programs. Instruction is supplemented at all levels by a state-of-the-art language laboratory with integrated computers and extensive audio-visual holdings. Check the university bulletin for a complete description of course offerings.