Student Information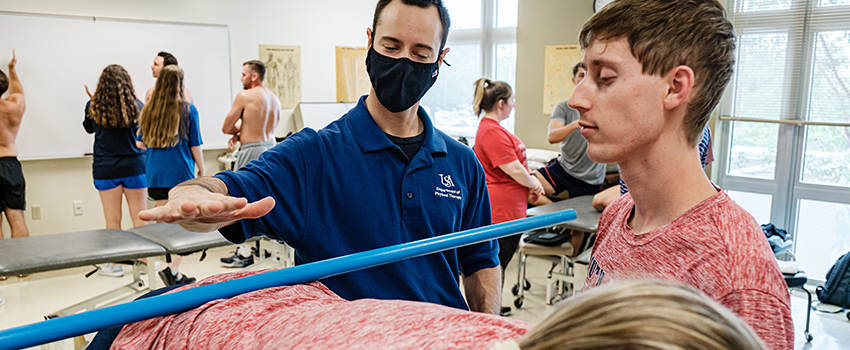 Top Ten Reasons Students Say They Would Choose the USA PT Program Again
#10 Variety of clinical facilities
#9 Location - close to home
#8 Small class size
#7 Location - close to the beach!
#6 Friendly atmosphere
#5 Comfortable informative interview
#4 Saved money
#3 Early entry option
#2 Program reputation and space
#1 Personable and knowledgeable faculty

We have fun while learning in a quality program!
Faculty Mentor Program
Each faculty member has been assigned a small number of students for a personal mentor program. If you have difficulties with course work you should contact the individual coursemaster first. Further assistance can be obtained by consultation with your Faculty Mentor. In addition, your Faculty Mentor can assist you with problems that you may be experiencing elsewhere with your studies. The University offers a comprehensive list of Student Counseling Services if needed. We strongly advise you to contact your Faculty Mentor each Semester to discuss your performance in each course. In this way, we can assist you before serious problems develop. For the coming year, the student Faculty Mentors are displayed on the PT I Notice Board in the Student Lounge foyer.
Class Liaison
Following the election of a number of Class Officers to conduct the various activities of the student body, the President of each class is invited to attend Faculty Meetings to provide an important link with the faculty. In addition, the Class President is able to consult with the Chair of the Department as often as needed. These systems allow matters affecting the whole class to be discussed and addressed promptly. In effect, there is an 'open channel' of communication at all times.
Grievance Procedures
The University has a number of procedures for the handling of grievances. Students are advised to try to solve all problems first at the Department level with the individual Faculty and Department Chair if needed. Details of the procedures can be found in the University Undergraduate/Graduate Bulletin.
Filing a Complaint or Comment
The Filing a Complaint or Comment document lists several ways you can submit a complaint or comment regarding the Physical Therapy Program at the University of South Alabama or the faculty, staff or students.