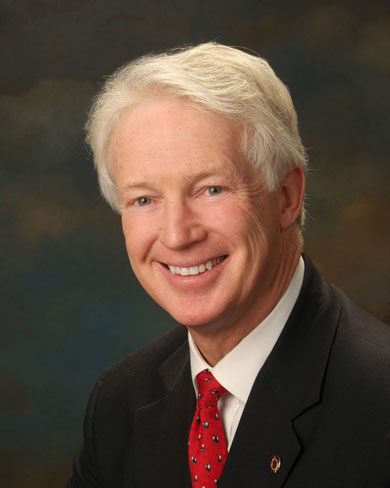 Michael Chambers, J.D., Ph.D.
Associate Vice President for Research

---
Biography
Dr. Michael Chambers currently serves as Associate Vice President of Research. Before joining USA, he founded and served as President and CEO of Swift Biotech, a company developing technologies to fight cancer. Before Swift, Chambers helped found and served as CEO of InnoRx Pharmaceuticals, an ocular drug delivery company. He negotiated its sale to SurModics (NASDAQ: SRDX) in 2005.
Prior Chairman of ProUroCare, a public company based in Minneapolis, he has served on the boards of InQ Biosystems, Gene Capture, BioAlabama and the EDPA. He was a co-author of the Commercialization portion of the Alabama Science & Technology Roadmap commissioned by then Governor Bob Riley. Dr. Chambers has been recognized in Best Attorneys in the United States in Commercial Law, Arbitration and Mediation, and recognized as a Top Attorney in Healthcare.
He served as Chairman of the Mobile Area Chamber of Commerce in 2014. He co-founded 1702, an entrepreneurship and mentoring organization and was named Start-Up Executive of the Year in 2014 by Alabama LaunchPad. An active Rotarian, he served as District Governor in 2015-2016.
In 2021 he was named Entrepreneur of the Year by the Mobile Area Chamber of Commerce. Governor Kay Ivey appointed Dr. Chambers in 2021 as one of her six state-wide appointments to the newly formed Alabama Innovation Corporation (AIC). The AIC is charged by statute to implement programs to prepare Alabama "for the economy of the future."
He received B.A. and J.D. degrees from the University of Alabama and a Ph.D. from the University of Geneva in Switzerland where he was a Rotary Ambassadorial Scholar and a Swiss Confederation Fellow. He speaks French and Spanish.
He serves as an Adjunct Professor of Oncologic Sciences at the Mitchell Cancer Institute and has served as a grant reviewer for the National Science Foundation.
He is the Principal Investigator (PI) and Executive Director of NSF's USA I-Corps Site and the Executive Director of RAMP, an MIT-licensed business mentoring program serving the Gulf Coast. He serves as PI on an NSF-funded industry collaboration (IUCRC), co-PI on an NSF Partnerships for Innovation award, and has served as co-PI on another NSF grant teaching transition of technology into practice (TTP).