Rep. John Lewis: 'Remember, We Are Depending on You.'
---
Posted on December 12, 2015
Alice Jackson
---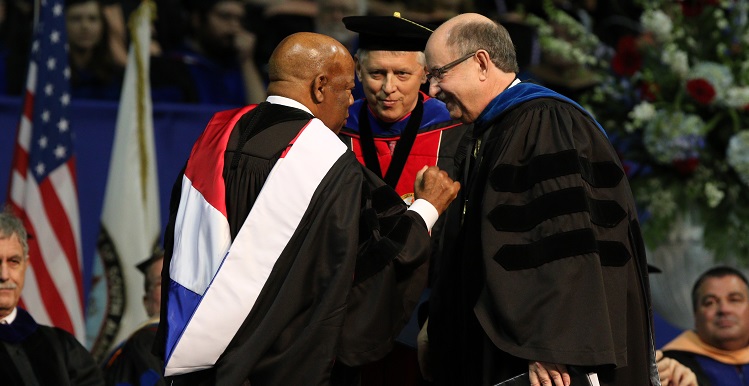 U.S. Rep. John Lewis was the commencement speaker for the University of South Alabama's 2015 Fall Commencement. He is joined on stage by, from left, Dr. Tony Waldrop, USA president, and Dr. David Johnson, provost and senior vice president for academic affairs.
---
Civil rights icon Congressman John Lewis challenged graduates of the University of South Alabama on Saturday "to go out and use your education as a great tool to change the world."
The Alabama native, who worked alongside the late Rev. Dr. Martin Luther King Jr. during some of the most dangerous and bloody times of the historic Civil Rights Movement, spoke to the nearly 1,000 graduates who participated in Fall Commencement held in the Mitchell Center. Fall commencement is the graduation exercise for students who completed academic requirements during the summer or the fall term.
The University awarded Lewis, a graduate of Fisk University, an honorary doctorate degree for his lifetime achievements in social justice, human rights and civic leadership.
Lewis entered local politics in Atlanta in 1981, and he has represented Georgia's Fifth Congressional District in the U.S. House of Representatives since 1986.
Lewis was a Freedom Rider who challenged segregation at interstate bus terminals across the South. He was the architect of and a keynote speaker of the historic March on Washington in August, 1963. In 1965, he and fellow civil rights leader Hosea Williams led more than 600 orderly protestors across the Edmund Pettus Bridge in Selma to walk to Montgomery in support of voting rights. However, the marchers were attacked by Alabama state troopers in a brutal confrontation that became known as Bloody Sunday and helped to hasten the passage of the Voting Rights Act of 1965. Despite more than 40 arrests, physical attacks and serious injuries, Lewis remains an advocate of nonviolent protest.
Pausing to look at the graduates, Lewis praised changes in America, such as the Civil Rights Movement, for producing such a diverse group "of beautiful, handsome rebels."
"Enjoy what you have today, take it all in, breathe in the wonder of all of it," Lewis said.
Then, Lewis reminded them that their advantages stemmed from the high price paid by earlier generations. He shared how as a young child in Pike County he questioned why he and his friends were restricted to the second floor of the local theater while white children sat comfortably on the theater's first floor.
"I questioned these things and searched for answers because I was inspired by history and by the writings and teachings of great teachers who came before me," Lewis said. "Do what I did, and go out and use your education as a great tool to change injustice and to make this world even better. If you don't use it, who's going do it?"
Lewis recalled how a family shotgun house of his childhood would sometimes lift from its foundation during strong storms, and an elderly aunt would direct him and his siblings to run from corner to corner, using their weight to keep the home grounded. He likened how today Alabama and the nation are somewhat like that rickety old house.
"We must all live in this house," Lewis said. "Our forefathers came to this country from many lands, but today we're all in the same ship, the same house, here."
In closing, Lewis said: "I didn't give up when it was my turn, and I kept the faith you must have now in yourselves because it is your turn. Remember, we are depending on you."
---