Undergraduate Research SOARing at South
---
Posted on November 14, 2016
Alice Jackson
---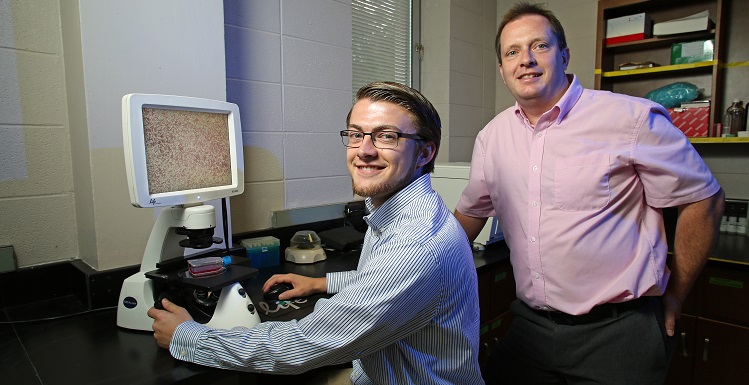 Junior Alex Coley, left, and Dr. Glen Borchert are among a growing number of USA undergraduates and faculty members collaborating on research that crosses disciplines. Coley and Borchert use this microscope to look at pancreatic cancer cells.
---
Alex Coley planned to be a medical doctor when he started at the University of South Alabama. Three years later, the junior biomedical sciences major is assisting with cutting-edge cancer research that could change treatment for the disease's most deadly tumors. It has already changed how he plans to spend the rest of his life.
Coley spent the summer working in the laboratory of pancreatic cancer researcher Dr. Oliver McDonald, assistant professor of pathology, microbiology and immunology at Vanderbilt University.
"When I was in high school, I had no exposure to what research could be. I met my faculty mentor, Dr. Glen Borchert, here at USA through a friend who was one of his graduate assistants. Dr. Borchert helped me get my position with Dr. McDonald because he knew him," said Coley, 20. "This summer was a great experience to see what a researcher's day is like and to research at that level. Now, I'm definitely headed into research."
Undergraduate research across all disciplines is increasing so rapidly at USA that a new group, the Student Organization for Academic Research (SOAR), began recently.
Inside McDonald's laboratory, Coley assisted his research identifying and tracking rich nutrient pathways of oxygen and glucose that feed rapidly spreading pancreatic tumors, considered among the most deadly of cancer's killers. Now, McDonald, Borchert and Coley plan to exploit, learning how the tumors use those nutrients as a potential new therapy. It is a laborious journey and only a small piece in the latest trend of cancer research – target specific vulnerabilities inside the cancer cells rather than blasting the patient with chemotherapy. At its most extreme, perhaps even using the body's own immune system to stop feeding the cancer cells.
Specifically, they:
Traced amounts of glucose being taken up by the tumors.
Followed the metabolites to see how the tumors used energy.
Determined that distant tumors took in a lot of glucose and used different pathways to utilize it as fuel.
Their research concluded that the metastasizing tumors "use way more nutrients" than the tumor that spawned it.
"Now we know the tumors require these energy sources in somewhat the same way that plants move toward sunlight," Borchert said.
Coley's summer work made him the Grand Winner in the University's recent Undergraduate Research and Creative Activities Symposium. In March, he and Borchert, an assistant professor of biology and the recipient of a prestigious National Science Foundation Career Award for his work on gene regulation, will present a paper based on this research at the National Conference on Undergraduate Research in Memphis.
Before then, they'll continue aspects of the research in Borchert's lab at USA using some of the same pancreatic cancer cells used by McDonald.
"We are going to follow up this summer's results," Coley explained. "We will look at the samples on a micro RNA level."
RNA is ribonucleic acid, a nucleic acid present in all living cells. It acts as a messenger to carry instructions from DNA for controlling the synthesis of proteins, although in some viruses, RNA rather than DNA carries the genetic information.
"Ultimately, when we're done with this, the next step is for Dr. McDonald to use what we've learned in clinical treatment," Coley said.
Coley and Borchert plan to write a paper based on their results that Coley, a member of the USA Honors Program, will use as his senior thesis.
"Our work is really an active research project inside a research project," Borchert said. "Alex has done a spectacular job, and he's going to have a career future he loves."
What Coley and Borchert learn will, hopefully, add one more piece to the giant puzzle that is cancer research, something that Borchert said is changing rapidly.
"Ten years ago, I would have said we aren't close to finding a cure for cancer," Borchert said. "But we've had so much success in the last 10 years, I've changed my mind."
Coley, who is from Nashville, said after he completes his bachelor degree in 2018, he hopes to obtain both a medical degree and a Ph.D., a growing trend among cancer researchers. According to Borchert, entry level jobs for graduates with both degrees begin in the $200,000 range.
Still, for Coley, the greatest satisfaction lies in what he has learned and how he hopes to use it.
"I've learned that research is just a great way to apply knowledge," Coley said. "To work on research like this, I feel I've actually contributed to something great, even as an undergraduate."
---