#Freshman Focus: Keon Farmer
---
Posted on September 23, 2021
Thomas Becnel
---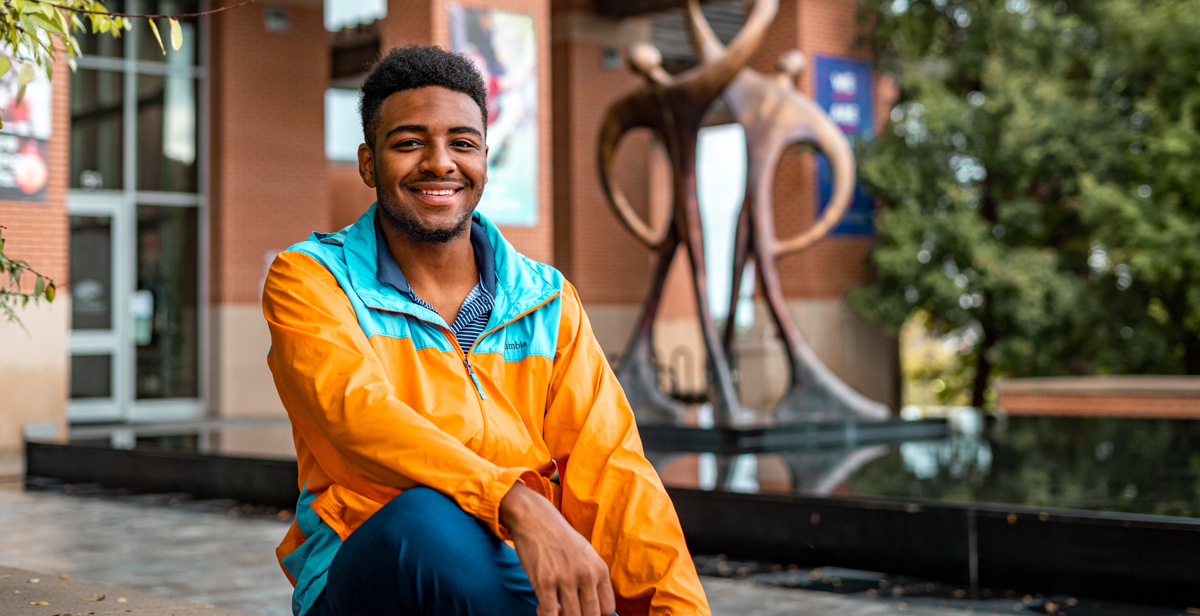 Keon Farmer, a nursing major from Pass Christian, Mississippi, says he's learning to play volleyball at the Student Recreation Center. "Whoever comes, comes, and we'll play from 6:30 to 11 o'clock closing at night. It's hard core."
---
Keon Farmer, a member of the First Year Council at South, has the kind of ready smile and relaxed manner that make it easy for him to meet new people and try new things.
At Pass Christian High School in Mississippi, Farmer was class president and homecoming king. During the COVID pandemic, he helped reinvent school events and senior programs. He also ran hurdles for the track team.
At the University of South Alabama, he's discovered a new sport.
"I've been playing volleyball with a group at the Student Rec Center," he said. "Whoever comes, comes, and we'll play from 6:30 to 11 o'clock closing at night. It's hard core. Some people played in high school or actually played here at South."
Farmer lives in Azalea Hall, where he and his friends "all hang out like family." Mobile feels like a big city to Farmer, even though he hasn't seen much of downtown. He's from DeLisle, Mississippi, a community of about 1,000 people just north of Pass Christian.
"It's the country part," he said. "Less beachy and more woods. It's definitely hometown — everybody knows everybody else, or they're related somehow."
On rainy days at South, Farmer wears a teal-and-orange jacket for the rain and duck boots for the puddles. This fall, he's starting a new campus job with Parking Services. And he's busy with the First Year Council, part of the Student Government Association.
After earning a nursing degree, he would like to become a nurse practitioner. That's why he chose to attend college in Mobile.
"I knew South has one of the biggest nursing programs close to home," Farmer said. "Plus, my county is one of the Mississippi counties that get in-state tuition. And it's the perfect distance from home — an hour and 38 minutes from my house."
Do you know a lot of Mississippi people at South?
"Oh, yeah. Our Homecoming Queen, one of my childhood friends, is here, too. She's a Mitchell Scholar, a business and marketing major in the Mitchell College of Business."
Have you been finding your way around South?
"I hadn't gotten lost until the other day, when I drove for the first time. I was dropping off a friend at Shelby Hall, but then I couldn't drive back across campus for my class. I had to run the whole way."
Have you been to a football game?
"I went to the second half of the first game. I had to go home for this wedding, but I was able to make it back. It was a little hot and humid, but it felt good, being in a big-game setting. You could see everyone in their moment."
What's your favorite spot on campus?
"Probably the Rec Center. It's a place to take your mind off things. It's a stress reliever and you can let loose a little bit."
How do you like the Dining Hall?
"The best thing has been the stir fry. I wasn't expecting it to be that good. They cook it all right there for you. And the pizza — you can't go wrong with that."
How are the first weeks of your nursing education? Any second thoughts?
"I'm pretty dedicated to nursing; I'm pretty serious about it. After school, I'd like to be a travel nurse for a couple of years. You can make good money, and it should be interesting. As a long-term goal, I'd like to work in a clinic or medical office back in Mississippi, or maybe Mobile. I'm a hometown person who wouldn't want to live too far away."
How's it going with the First Year Council?
"We had our retreat and it was good to finally meet all of the people. We have different personalities, and we're from different places, and we talked about what we want to do this year. We want to make sure all students feel included. There's so many groups and organizations on campus, no one should feel left out."
---