University of South Alabama Records Growth in Enrollment, Retention
---
Posted on September 8, 2023
Marketing and Communications
---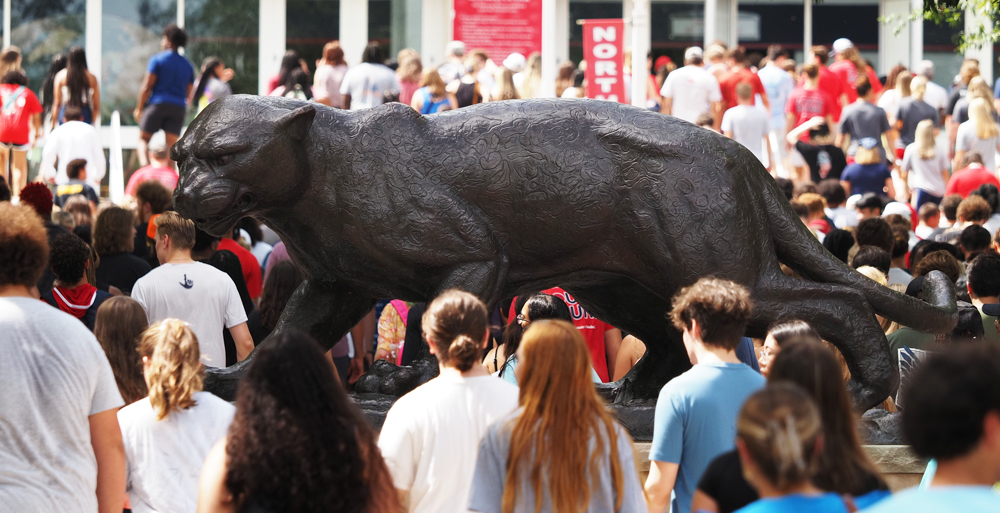 The University of South Alabama enrolled one of its largest freshman classes in 2023. Students gather at Moulton Tower and Alumni Plaza prior to Convocation.
---
First-year student enrollment at the University of South Alabama jumped by 19 percent, making the Class of 2027 one of the largest in University history. In all, total enrollment in 2023 rose by more than 300 to 13,768 students since last fall, according to data released today.
"It is clear more and more students and their families see the value of a first-class ticket to a brighter future through a degree from the University of South Alabama," said President Jo Bonner. "As hard as we are working to recruit new students to South, we will — with equal energy and passion — do our best to prepare each of them for graduation and what comes next in life."
First-year student retention — a key indicator of student success — reached 76 percent, the second highest in the University's history. The data suggests retention efforts, including advising and engagement initiatives, are having a positive impact as students transition from high school to college and then their sophomore year, said Dr. Andi Kent, executive vice president and provost.
"Our faculty and staff have gone the extra mile to put our students first," Kent said. "They have implemented innovative teaching strategies and provided enriched opportunities for research, service and campus involvement."
The enrollment data released today also shows that:
Nearly 2,500 students are living on campus, more than at any other time.
The Class of 2027 is one of the most academically talented, with an average GPA of 3.76.
Transfer student enrollment is up 10 percent.
International enrollment rose 5 percent.
The College of Arts and Sciences and the School of Computing grew by 9 percent and 8 percent, respectively, and the College of Nursing recorded its largest undergraduate enrollment.
The Honors College freshman cohort, up 28 percent, is the largest in University history.
The University has aggressively focused on student recruitment in the last two years, expanding scholarships and its approaches to reaching new students and their families. Efforts include spirited VIP tours on board Jaguar Athletics buses, bringing high school students to campus to visit with faculty and tour facilities.
"Once they arrive and meet with our students, faculty and staff, they quickly discover what makes South so special," said Kent, who helps lead the tours along with Bonner and the University's enrollment team. "With more students and on-campus housing occupancy at an all-time high, there is renewed energy on campus. There are many reasons to be proud of our University, as well as to be optimistic for our future successes."
South's growth this year has occurred as many universities have faced enrollment challenges. While enrollment at 78 public flagships rose more than 12 percent in recent years, enrollment at public regional universities fell more than 4 percent, according to a Chronicle of Higher Education review.
Bonner, since his appointment in January 2022, has laid out a vision of South as a coastal flagship university. The University is uniquely positioned with 115 degree programs in 10 colleges and schools, in addition to USA Health, the region's only academic healthcare system.
"Collectively, we are meeting this moment of opportunity," Bonner said. "We are living out our mission of promoting discovery, health and learning because that's what the people who came before us envisioned, worked for and, quite frankly, expected.
"This is just the beginning. Today we celebrate, but we also recommit to our collective efforts of telling South's story and sharing the value of a degree from the Flagship of the Gulf Coast."
---