USA Medical Center Awarded $4 Million for Trauma Center Expansion
---
Posted on August 9, 2017
Jen Ekman
---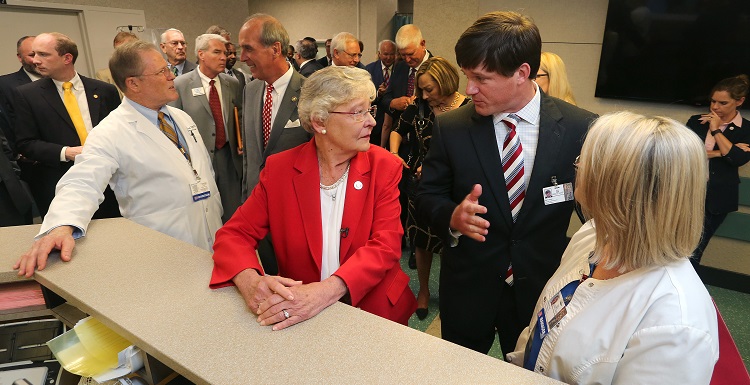 Gov. Kay Ivey, center, tours the University of South Alabama Medical Center and talks with Sam Dean, hospital administrator, before announcing a $4 million bond issue to renovate and expand the hospital's Level 1 Trauma Center.
---
Following a tour of the University of South Alabama Medical Center on Wednesday, Aug. 9, Alabama Gov. Kay Ivey announced that $4 million from an economic development bond issue will be directed to the cost of renovating and expanding the hospital's Level 1 Trauma Center.
The funds will allow USA Medical Center to expand and modernize the current space, enhancing the hospital's ability to accommodate patients with traumatic injuries and respond to mass casualty situations in the region.
Surrounded by community and business leaders, Ivey recognized the need for expansion of USA Medical Center's existing Emergency Department.
"We are proud to support the work of USA Medical Center as the region's only Level 1 Trauma Center," Gov. Ivey said. "We depend on this care for our citizens. This service is also vital to our state's economic development efforts, as corporations demand this level of care when they look to relocate to our state."
USA Medical Center is the only hospital in the region where patients can receive the highest level of care when a traumatic injury occurs. A dedicated trauma team of specialized physicians and staff is on standby at the hospital 24 hours a day, seven days a week, ready to help patients at a moment's notice.
USA leaders praised Gov. Ivey's announcement and her acknowledgement of the unique role played by USA Medical Center and USA Health.
"We are grateful Gov. Ivey and state lawmakers recognize the importance of an expanded Level 1 Trauma Center in our region and the role our dedication to quality health care has in attracting more businesses here," said University of South Alabama President Dr. Tony Waldrop.
---