Audiologist Hears Call as Dr. Chick
---
Posted on June 30, 2020
Thomas Becnel
---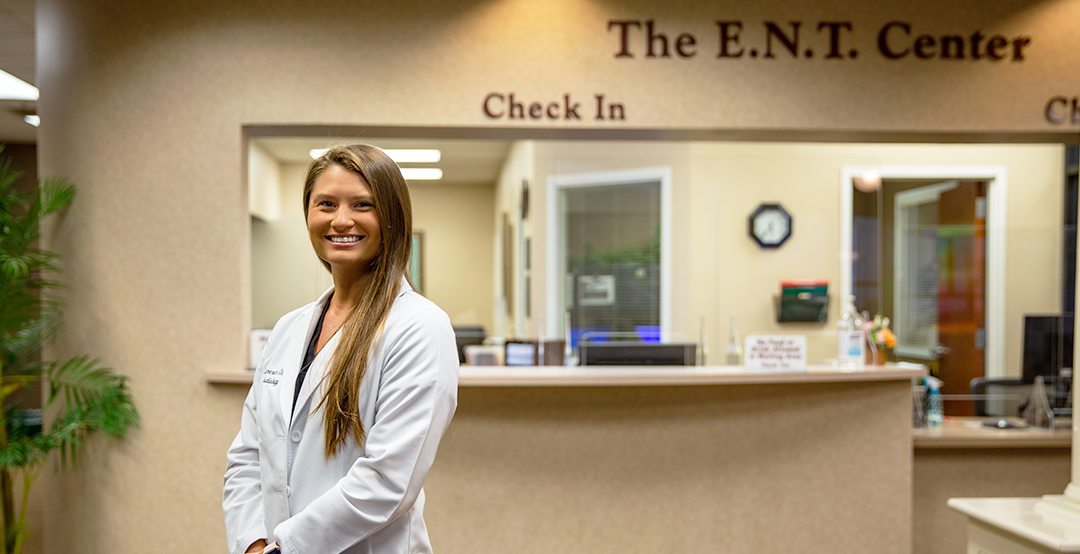 Dr. Cameron Chick, who earned a doctorate at the University of South Alabama, is a clinical audiologist at the Georgia Hearing Institute.
---
#MyFirstJob is a series focused on University of South Alabama Class of 2020 graduates who are beginning their careers.
At the Georgia Hearing Institute in Macon, where Cameron Chick works as a clinical audiologist, she's trying to get used to the sound of her new title.
"Dr. Chick."
Last month, she earned a doctorate in audiology from the University of South Alabama. Now she's a full-time employee at the private practice in Macon. She wears a traditional white coat, though she's still waiting for the diploma to frame on her office wall.
"It's crazy — surreal — but it feels great," she said. "My parents keep sending me stuff in the mail addressed to Dr. Cameron Chick."
For the last year, Chick has worked as an intern, meeting patients, performing tests and adjusting hearing aids and cochlear implants.
"You don't realize how fast you can learn and how quickly you can become independent," Chick said. "You learn what great teachers you had who prepared you to work on your own."
At South, three years in classrooms and labs led to practical experience during month-long rotations at different clinics and hospitals. Chick loves the Gulf Coast, so she enjoyed assignments in Gulf Shores and Biloxi, Miss.
"Any day I could go to the beach," she said, "that's what I did."
The 27-year-old is from Tallahassee, where her dad has a window treatment business called Chick's Blinds. Her mom works for the state of Florida. As a teenager, her first job was as a city lifeguard.
Last year, she almost took an internship in Pensacola, but finally decided on Macon, south of Atlanta and about three hours from home. From her Macon apartment, Chick has a short commute to work at the hearing clinic. The downtown historic district near the Ocmulgee River offers plenty of restaurants and brewpubs.
"The downtown is up-and-coming," she said. "It's a small city that still feels like a small town."
On weekends, Chick often drives to Tallahassee, Fla., or Eufaula, Ala., where her boyfriend is a high school football coach.
She has fond memories of her time at South. She enjoyed working out at the Student Rec Center. She misses her grad school colleagues in Mobile.
"I really liked my classmates," she said. "We did things, we studied together. It was a good support system."
At South, Chick worked as a graduate assistant in the Study Abroad program. She believes in student travel. She spent 18 days in South Africa on a clinical trip led by Dr. Ishara Ramkissoon, an associate professor of speech pathology and audiology.
Women far outnumber men in audiology at South. At the Hearing Institute office in Macon, which is part of a Georgia medical group, all of the physicians are men — and all of the audiologists and support staff are women.
"It's kind of a funny thing," Chick says. "I think healthcare, in general, draws women as a nurturing thing. But I love it. I love working with all the women."
She sees patients of all ages. Some are older people who are losing their hearing. Some are infants getting their first audiology exam.
"I love the babies," Chick said, "but it can be hard to tell a mom that her child has hearing loss."
In college, she went by "Cammie," but now she's using her full name. It goes with the title, office and white jacket.
At work, she's still figuring out all of the billing and computer coding that is part of the position. She isn't sure where her career will lead. Already, though, she has something in mind.
"I'd love, eventually, to go back to a university and work as a clinical professor," she said. "Showing students how to see patients, that would be great."
Chick isn't the only Jaguar working at the Hearing Institute. One of her South classmates, Lauren Hall, is an audiologist working at a sister office in Warner Robins, Georgia. Another student, Abigail Askew, plans to follow in her footsteps as an audiologist in training.
"She just started a year-long internship," Chick said. "So we're kind of funneling in all the South people."
---