USA Student Wins Competitive Gilman Scholarship
---
Posted on June 17, 2021
Joy Washington
---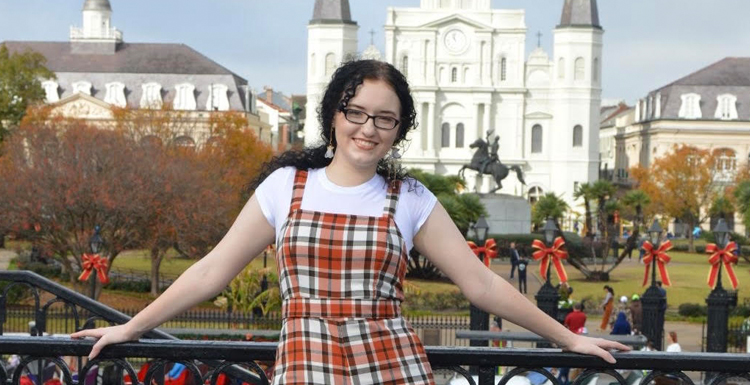 Rebecca Culberson, a senior international studies major at South Alabama, is the recipient of the 2021 Gilman Scholarship.
---
The University of South Alabama announced senior Rebecca Culberson as a 2021 Benjamin A. Gilman International Scholarship recipient. Culberson is an international studies major at South and will receive a $4,000 stipend for travel.
The Gilman Scholarship Program gives students the opportunity to travel abroad and return home with a deeper understanding of their place in the world. The congressionally funded program broadens the U.S. student population studying and interning abroad by providing scholarships to outstanding undergraduate students who, due to financial constraints, might not otherwise be able to travel internationally.
"I am excited and grateful to have been selected to study abroad as a Gilman Scholar," Culberson expressed. "I have been interested in studying abroad since high school. As a freshman, I had an opportunity to study in Korea and loved the cultural experience. I had the time of my life."
Culberson is one of more than 1,500 undergraduate students nationally that have been selected to receive the Gilman Scholarship. As a Gilman Scholar, Culberson hopes to study abroad by the end of 2022. The COVID-19 pandemic is limiting international travel and Culberson was given the option to sign up for a virtual study abroad experience, but she decided to travel when it's approved for her to do so. A native of New Orleans, La., she hopes to be able to travel to either Vietnam, Belize or Ghana.
"I needed to do an internship to graduate," Culberson noted. "After seeing several friends apply for different scholarships at South Alabama, it inspired me to apply for the Gilman Scholarship. I am open to going to any non-English speaking country, because I feel that I would have a stronger experience."
---