South Brings Home Vic Bubas Cup
---
Posted on May 23, 2016
Marketing and Communications
---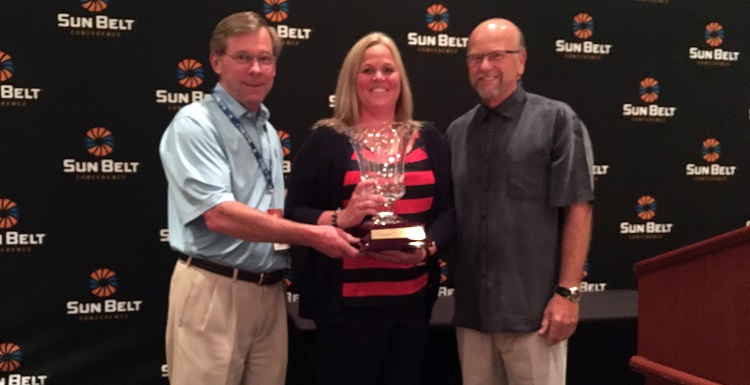 Dr. John Smith, left, USA executive vice president; Jinni Frisbey, USA associate athletic director of sports medicine and senior woman administrator; and Sun Belt Commissioner Karl Benson are pictured with the Bubas Cup, which was awarded to South Alabama for the second year in a row.
---
The University of South Alabama Jaguars have been recognized for top academic and athletic performance.
The Jags were awarded Sunday with the Vic Bubas Cup as the Sun Belt's top member in competition across 17 sports. It's the second year in a row South was awarded the cup and the 12th time overall.
South's athletes also scored the Sun Belt Conference's most points in a key academic indicator, the Academic Progress Rate, according to the most recent numbers. South Alabama's overall single-year APR for 2014-15 was 988 out of 1,000, with nine University teams landing a perfect 1,000. APR holds Division I institutions accountable for the academic progress of student-athletes through a metric that accounts for eligibility and retention for each academic term.
"Winning the Sun Belt Conference Vic Bubas Cup is an honor of which all members of Jaguar Nation can be proud," said USA Director of Athletics Dr. Joel Erdmann. "We strive to have a department with 17 sports programs with the same expectations – to compete for and win Sun Belt Championships with successful postseason play."
In winning the Bubas Cup, South recorded a total of 127 points — the school's highest figure since 2001-02.
The Jaguars lay claim to four Sun Belt titles — women's cross country, soccer and women's outdoor track and field were outright champions, with the baseball program earning a share of the championship on Saturday — and were bolstered in the final standings by having 15 of 17 teams finish among the top half of the conference rankings.
That included runner-up finishes in the last month by the men's and women's tennis, softball and men's outdoor track and field teams. In addition, the men's cross country and indoor track and field squads placed third and fourth, respectively, while the women's indoor track and field program tied for fourth at the SBC Championship in February as well. Also finishing in the top half of the Sun Belt were the Jag football, women's basketball, volleyball and men's golf teams.
The Vic Bubas Cup is named for the former Duke University basketball coach who became the first commissioner of the Sun Belt Conference, a position he held for 14 years.
Erdmann credited the coaches for recruiting and training players that can successfully compete on athletically and academically.
"I truly believe whether you're an athlete or a musician or an artist or a business person, the people who tend to be successful have a certain set of behavior characteristics. Those folks tend to be self-motivated, they tend to play well with other people, they work well in groups, their selfishness tends to be minimized, and they understand the strength of a team or a group of people," Erdmann said. "What we're looking for in the recruiting process is not only for how fast they are, how far they can throw an object, how high they can jump or if they hit a ball a certain way, but we're also paying attention to achievement in the classroom.
"Yes, we want to know if you are a Division I-caliber athlete, but we also want to know is education important to you, and is education important to your support structure at home and what do you want to do with a degree."
South offers student-athletes assistance through services including advising, tutorial assistance, supervised study hall, weekly support meetings, progress reporting and an orientation course.
"We are able to provide our student-athletes with the resources needed for our student-athletes to be successful in the classroom while competing at the highest level of intercollegiate athletics," said Jason Kelly, assistant athletic director for academic services. "Our student-athletes deserve a lot of credit. They hear our coaches and administrators speak to them about our guiding principles – graduation, citizenship, championships. They understand the expectations and are meeting those expectations to prepare for life after college."
---