To Connect with Students, Professor Learns Hindi
---
Posted on January 8, 2016
Alice Jackson
---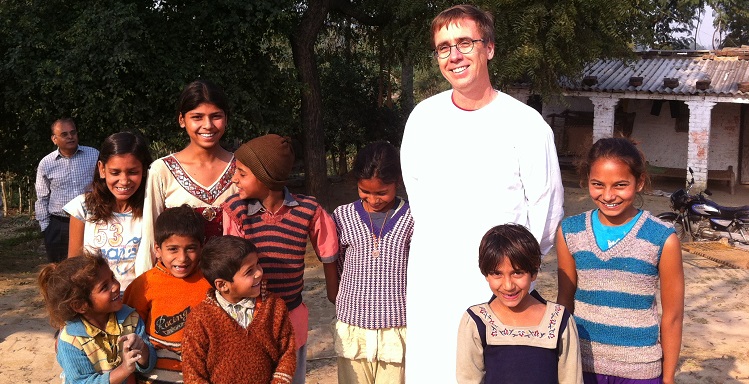 Dr. Harold Pardue, professor of information systems at USA, standing center right in this 2013 photo taken during a trip to India, learned to speak Hindi, the language of many of his students.
---
Dr. Harold Pardue often startles students and their parents when he begins to speak during recruiting trips to India.
"They don't frequently hear their own Hindi language coming from Americans, and at first it's always a big surprise to them," said Pardue, a professor of information systems and director of graduate programs in the School of Computing at the University of South Alabama. "Then, they immediately begin to feel comfortable with me, and it opens the way for a good conversation about coming to America to study at USA."
What makes Pardue's accomplishment even more surprising is that he taught himself to speak Hindi, which has raised a few eyebrows.
"My colleagues were surprised," Pardue recalled. "But my wife, Suzanne, and our four kids thought I was crazy."
In 2007, when Pardue decided to learn a foreign language, he settled on Hindi, the mother tongue of northern India and the official language of its government, simply because many of his students were from India. Today, close to 300 Indian students are enrolled at USA, primarily studying the STEM disciplines: science, technology, engineering and math.
"To learn a foreign language, you really have to be around native speakers, and a lot of my students speak Hindi," Pardue explained. "Plus, I wanted to read classic Indian literature in the native language, and although India has more than 20 spoken languages, Hindi is also the language for its literature."
Hindi can be especially challenging because, unlike English and other romance languages descended from ancient Rome, it lacks an alphabet.
"The grammar's different also from the romance languages, so you can't do a word-for-word translation as you can do with the romance languages, and I think that makes it especially challenging for Western speakers," Pardue explained.
Pardue is a goal-oriented person whose job is learning and teaching computer program languages, so he approached Hindi the same way. He bought "Teach Yourself Hindi," a book published in the United Kingdom that came with audio tapes. He read and repeatedly listened to the tapes while driving. As he learned Hindi words, he slowly substituted them for English words.
"I learned Hindi pronunciation by listening and talking to my students. Then, I watched movies, but I do think it was a lot harder for me to learn it as an adult," Pardue said. "My wife said for the first couple of years she could understand me because I was speaking broken Hindi-English."
After about three years, he became fluent enough that his wife could no longer follow his Hindi conversations. Since then, he has made several recruiting trips on behalf of the University, meeting with prospective students and their parents as well as speaking to student groups. Still, Pardue says to become highly fluent in Hindi, he would need to live in India for a few years.
Learning Hindi wasn't the first time Pardue has stretched his abilities since graduating from USA in 1985 with an undergraduate degree in philosophy, then earning a master's degree in computing in 1990. He received his doctorate in information systems from Florida State University, then taught for four years in Minnesota before returning to USA in 2000.
"I'd never played guitar until I heard a USA professor play classical guitar during my undergraduate years. I took a class, and I still play today," Pardue said. He also runs, does woodworking and works on cars with his sons.
Now, he and his wife, both in their early 50s, rarely watch television. Instead, throughout their marriage, she has read books aloud to him at night. He estimates they've shared at least 500 novels over the years.
"We're four months into learning Spanish because we wanted to learn something together," Pardue said. "She and I talk in Spanish at home, and we have a few friends who speak it. However, I don't know how long Spanish will take because I'm a lot busier than I was when I was learning Hindi."
Despite his achievements, Pardue still has a long bucket list.
"We'll be studying Spanish for a while," he said. "But, I think after that, we'll try Mandarin!"
---