Advancing Healthcare Through Growth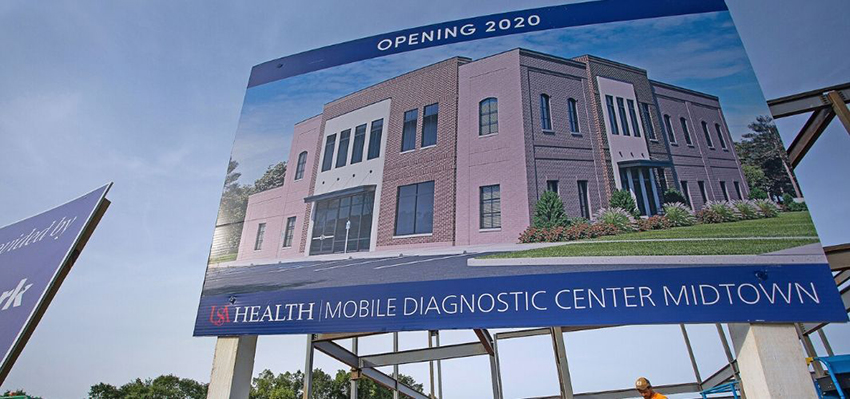 Three new facilities allow expanded care throughout the Mobile area.
Three significant USA Health construction projects, all scheduled to be completed by the end of 2021, will continue the transformation not only of USA Health, but the healthcare environment for the Mobile region.
As the only academic health system in the Upper Gulf Coast region, USA Health holds the unique position of providing primary care through the most advanced care in our burn unit, advanced neonatal intensive care unit and Level 1 trauma center," said John V. Marymont, M.D., MBA, vice president for medical affairs and dean of the University of South Alabama College of Medicine. Each level of service has an appropriate setting, and we continue with our long-term effort to ensure the people within our region have access to care and benefit from our healthcare experts."
Fanny Meisler Trauma Center
The largest of the three projects, the Fanny Meisler Trauma Center at University Hospital will nearly triple the size of the emergency department and trauma center to 27,000 square feet and nearly double the number of examination rooms to 41. This will enhance the hospital's ability to accommodate patients with traumatic injuries and respond to mass casualty situations in the region. A $5 million gift from local businessman and philanthropist Bert Meisler and a $4 million economic development grant from the state of Alabama have enabled USA Health to continue to meet the trauma needs of our community.
;The importance of a Level 1 trauma center in our region cannot be overstated," said Owen Bailey, MHA, chief executive officer for USA Health. Many of the large industrial players won't think of expanding into an area if this type of facility is not nearby. And the care that we provide for those who are the victims of car accidents or other traumatic events is so important to our patients."
Mobile Clinic
As part of its strategic growth, USA Health knew a critical component was the need to increase its presence within the community, especially in primary care. To this end, USA Health partnered with Mobile Diagnostic Center in 2017. The success of this effort is no more evident than the planned opening later this year of a new location in midtown Mobile for USA Health Mobile Diagnostic Center. The 10,000-square-foot, two-story building will house MDC on the first floor and USA Health specialty practices on the second floor. This will provide patients with the convenience of a single location for many of their healthcare needs.
This facility also marks MDC's return to its roots in providing outstanding healthcare to the people of our region.
"We are thrilled that we have the chance to come back to where it all began nearly 40 years ago," said Dr. Jimmy Walker, one of the original members in the practice. What is even better is that through our relationship with USA Health, we are bringing back much more in terms of healthcare and expertise than we had when we were here originally. These are very exciting times."
"All of us at USA Health recognized the value in partnering with highly respected community-based physicians to improve patient access to the advanced healthcare associated with academic medicine," Marymont said. The relationship with Dr. Walker and everyone associated with Mobile Diagnostic Center has enabled this vision to become reality and this facility is a demonstration of it."
Freestanding Emergency Department
Looking to increase access to specialized healthcare and emergency services, USA Health has begun construction of a free-standing emergency department in west Mobile. The facility will be located on property bounded by Hillcrest Road and Old Shell Road, making it more convenient for people in the area to receive advanced care.
"When this facility is completed, the people who live in west Mobile will have easier access to some of the most advanced care in our region," Marymont said. Patients will be able to come to a state-of-the-art facility with a full complement of imaging services and be seen by board-certified emergency medicine physicians."
Free-standing Emergency Departments are a relatively new concept in Alabama with only a few being in operation, including one in Daphne, one in Saraland and locations around Birmingham. USA Health has been developing its plans for the facility since receiving state approval through the Certificate of Need process in 2018.
USA Health anticipates up to 15,000 patient visits per year at the location, which will house significant imaging capabilities including a CT scanner, an MRI, X-ray and ultrasound and mammography. Additionally, a helipad, as required for all free-standing emergency departments, will be located at the facility, with likely use being to take patients from the location to other facilities in rare situations.
"Over the past several years, the growth in the western portion of Mobile has been significant," Bailey said. "This facility will enable people to have their emergency healthcare needs met in a nearby and convenient location that is part of the region's only academic health system dedicated to helping people lead longer, better lives."
The new facility also will help in the training of future generations of healthcare providers. USA this year started an emergency medicine residency program to increase the number of physicians specifically trained for emergency medicine. In addition to the medical school, USA has introductory and advanced educational programs in nursing, occupational therapy, physical therapy, physician assistant, radiological services and speech pathology and audiology. "Being located adjacent to the University campus will enhance the convenience of our healthcare learners and provide them with an additional training site," Marymont said.
"While these three projects are indicative of the strategic, revolutionary growth occurring within USA Health, they are only the most recent demonstrations of our transformation," Bailey said. We look forward to telling you more in the near future."