Mentor Collective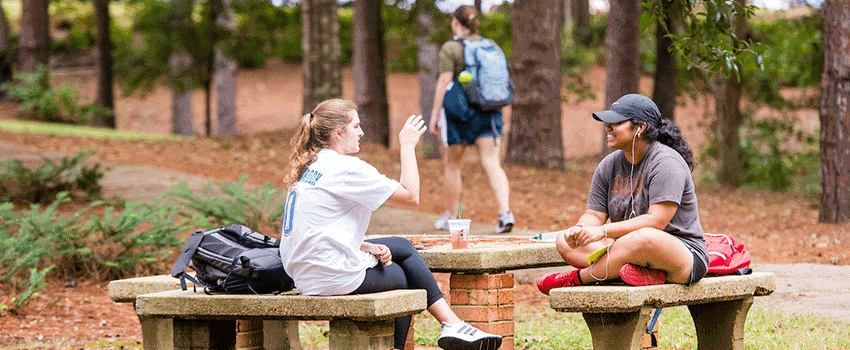 The Mentor Collective Program
The USA Mentor Collective program enhances the student experience by linking them one-on-one with a peer mentor. Students are paired with someone invested in their success — a person ready to listen, inspire, help navigate challenges and recognize opportunities. Students will learn what to expect in school, how to approach challenges, gain career advice and valuable insights, while mentors will build their networks and develop skills to become better professionals and leaders.
How it Works
Starting in fall 2020, mentorship will be available to first-year students in the College of Arts & Sciences and the College of Education. Students will be matched with a peer mentor based on common interests, background, academics and professional aspirations. To get started, students and mentors register and complete an online survey to assess personality and experience.
What do mentors and mentees discuss?
How will my major impact my professional options?
How do I balance the demands of school, responsibilities, and socializing?
How can I set myself up for academic, social, and career success?
How do I make connections with peers and professional contacts?
Arts & Sciences and Education students: Join this program as a mentee or mentor!
Mentee Experiences:
"[My mentor] helped me answer the question of how to form strong relationships with my professors by giving me an actionable strategy to having strong purposeful visits to their office hours."
"I'm really excited to have someone there for me. It's nice knowing that I'm not completely alone and hopefully can be someone I can reach out to if I'm having a hard time in school or other activities."
"My mentor has been an amazing help in my life, he makes me realize and see things more clearly. Sometimes it's in front of your face but can't see until someone puts it into words for you."
Mentor Experiences:
"I'm volunteering to mentor because I've been fortunate enough to have mentors who guided me throughout my academic and professional careers & I feel like I am finally able to give back."
"I would like to give back and help current students achieve their goals, sometimes all it takes is a simple conversation."
"I have personally benefited from the help of some great mentors both in my personal life and academic/career life. At my first real job after college I was assigned a mentor on my first day that has been nothing but supportive and helpful to me as I embarked on a new journey. Mentorship has been a very valuable asset to my life and career so far. I believe it is my duty to also give back like the mentors who have been part of my success so far."
Questions?
Want to learn more? Contact Mentor Collective at help@mentorcollective.org.