Student Spotlight: Nick Dailey
---
Posted on October 5, 2020 by MCOB Outreach
MCOB Outreach
---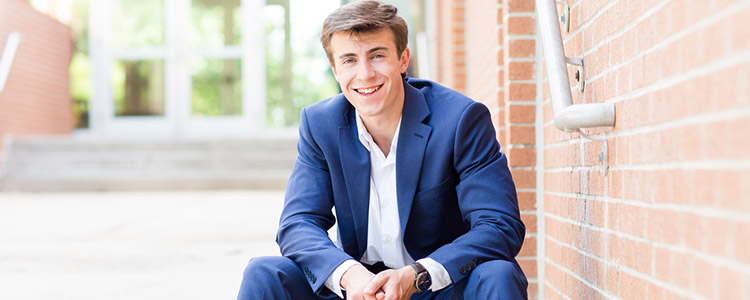 ---
Watch Nick's Interview | Watch Rapid Questions with Nick
My name is Nick Dailey, and I'm a senior Economics and Finance major with a concentration in Economics at the Mitchell College of Business. Born and raised in Huntsville, I graduated high school in 2017 with a graduating class of just eighteen people. Needless to say, coming to South took some adjusting.
I did not begin considering South until the fall of my senior year in high school. No one from my high school had previously attended South, so I was not well aware of campus. However, I was very aware of the Mobile community. Growing up, I frequently visited my grandparents in Spanish Fort. In a way, I already felt at home here. After a campus tour, I noticed how easy it was to get involved and connect with professors—something I placed great value in, having graduated from a small high school. I felt certain that the University of South Alabama was the best collegiate fit for me. That feeling only bolstered when I was invited to join the Mitchell Scholars' Program.
Since my freshman year, I have had the blessing of being able to connect to my University through involvement in an assortment of organizations. These include Mitchell Ambassadors, Southerners USA Ambassadors, Beta Gamma Sigma, Mortar Board Honor Society, and several others. I've also been able to develop myself as a leader through holding executive positions in my fraternity, Alpha Tau Omega. As I begin my senior year at South, I maintain that this school was the best collegiate fit for me.
Immersing myself in a whole new environment in which I knew no one forced me to adapt academically, socially, and emotionally to that challenge. I believe these changes have groomed me to be successful as a South Alabama graduate, whether in the workforce or a graduate school program. My time at this university has taught me lessons and brought me friends, in both the student body and faculty, that I will cherish the rest of my life. I am excited to see what this final year holds in store. Go Jags, always.
Watch Nick's Interview | Watch Rapid Questions with Nick
To submit Student Spotlight recommendations click here.
---
---