Student Spotlight: Mary Stokley
---
Posted on March 31, 2020 by MCOB Outreach
MCOB Outreach
---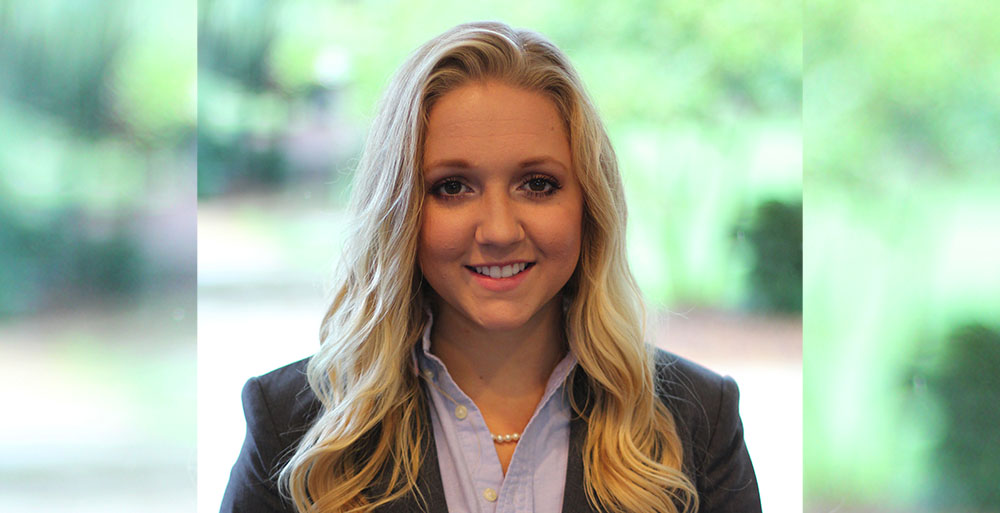 ---
Hi there! My name is Mary Stokley and I am a senior studying marketing with a focus in professional sales. Though originally from the tiny town of Sweet Water, AL my family now lives in Saraland. One unique fact about myself is that while working for Bellator Real Estate my senior year of high school I took a course and later received my Alabama real estate license by the age of 19, which is what initially sparked my interest in business.

I knew that South had an incredible business school and learning about their AACSB accreditation further piqued my interest. After hearing about the Mitchell Scholarship I applied, toured the school, interviewed with the Dean, received the scholarship and the rest is history. I have so loved being at this school and studying alongside friends and classmates who are as ambitious and goal-oriented as myself. As a resident's assistant my sophomore and junior year I learned how to welcome and empower incoming freshman, build and establish community, and work alongside staff that helped me grow as a person in responsibility, time management, and as a leader. South has allowed me the opportunity to grow not only as a student, but as an individual.

Last semester I was honored to be inducted into Beta Gamma Sigma the International Honor Society. As a lifetime member I have had opportunities to meet like-minded students as well as participate in different service activities. Another organization that I am a part of on campus is Campus Outreach. This is a Christian organization whose vision is "Glorifying God by Building Laborers on the Campus for the Lost World." Being a part of this organization has allowed me to share my faith as well as grow as a person in both leadership and commitment.

During the summer of 2019 I traveled to France with 11 other Mitchell Scholars, Dean Wood, and Dr. Affuso for a study abroad where we toured Paris, Rennes, Caen, and Toulouse learning about the conversion rates of US dollars to Euros. It was an interactive and enlightening trip with stops at the Normandy American Cemetery and Memorial, Toulouse Business School, Rennes School of Business and the Airbus headquarters aircraft assembly line. This was a great way of experiencing a new culture while simultaneously learning valuable business lessons at each destination along the way.
After graduation in May I will be moving to Houston, TX to pursue my marketing career. My dream would be to work for a marketing and advertising agency where I can be actively involved in representing both large corporations and small mom and pops as well as put to good use everything that I have learned in my time at the University of South Alabama Mitchell College of Business. I have been so blessed to be a part of this school and the amazing faculty and staff that run it. I want to say thank you to the dean for getting me out of every pickle I've gotten myself into and always encouraged me to be my confident self, every professor that has challenged me along the way, and all of my classmates who made the group projects and presentations worth it. Go Jags!
---
---