Student Spotlight: Jolie Thompson
---
Posted on November 26, 2019 by MCOB Outreach
MCOB Outreach
---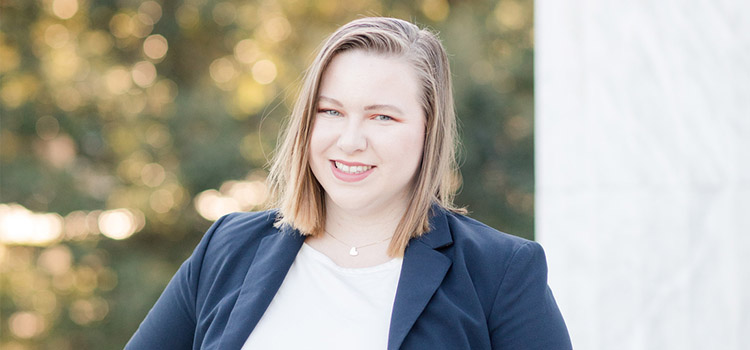 ---
HI! My name is Jolie Thompson and I am a Senior Management major at the Mitchell College of Business graduating in December 2019. I grew up in Fairhope, Alabama and went to school at Central Christian in Robertsdale. I have always been very interested in academics and graduated from high school at the top of my class. (Granted, my class was only 18 people, but that's not important) My childhood and teenage years really revolved around my passion of Cheerleading. I started cheer when I was 5 years old and was able to graduate high school as Varsity Cheer Captain. I gave up the sport when I came to college and have since focused on more academic-related activities.

I first visited USA during my junior year of college, kind of on a whim. I had an extra "college day" that I needed to use up and I knew South was the only place my mom would let me drive to by myself. At this point, I really had no intentions of actually ending up here. However, the second I stepped foot on campus I felt like I was at home. The campus felt so comfortable, like it was somewhere I could enjoy both learning and living. USA was close enough that I could still spend a lot of time with my family and was the perfect size. I came from a really small high school and was intimidated by some of the bigger schools, but South felt like somewhere I could experience what college really felt like without getting lost in the crowd.

The Mitchell College of Business has truly felt like a second home to me. To be honest, I am kind of sad to be leaving. The faculty and staff here have made me feel so welcome and have taught me so many valuable lessons. The thing I love the most about being an MCOB student is that I get so much hands-on experience within my field. I've gotten to work on several big projects allowing me to serve in various business roles such as working in a consulting capacity and even creating business plans to help me achieve future goals.

As a child I constantly got in trouble for being too loud and too bossy, and was often put in timeout for behaviors that seemed so natural to me. (Note: I wasn't mean… I just thought I knew the best way to get things done) I was always told that I was doing something wrong by being assertive. Once I came to MCOB, though, I learned that my natural tendencies were not bad, they just needed to be refined to make them more appealing to people around me. I've learned to let my natural leadership abilities shine, which is a concept I don't know that I would have grasped anywhere else.

My most enjoyable role within MCOB has been serving as a Mitchell Ambassador. This organization opens so many doors for students to be able to network with local professionals and to be able to serve in a leadership capacity within the college. I have the Ambassadors to thank for my current level of professionalism, my leadership abilities, and the fun times I have experienced throughout my academic career.

Soon after graduation I will be getting married to my wonderful fiancé, who is also an MCOB student. I hope to quickly secure a position in a management-related field at a local company so that I can begin putting my education to good use, and eventually I would like to own my own company. I plan to move back to the Eastern Shore within the next few years where I can comfortably grow my career and my family. Where I will be twenty or thirty years from now is not something I can say with certainty. All is know is that wherever I end up, the University of South Alabama and the Mitchell College of Business will be the reasons I got there. Go Jags!

Back to Mitchell Report.

---
---