Student Spotlight: Ian Peek
---
Posted on October 30, 2019 by MCOB Outreach
MCOB Outreach
---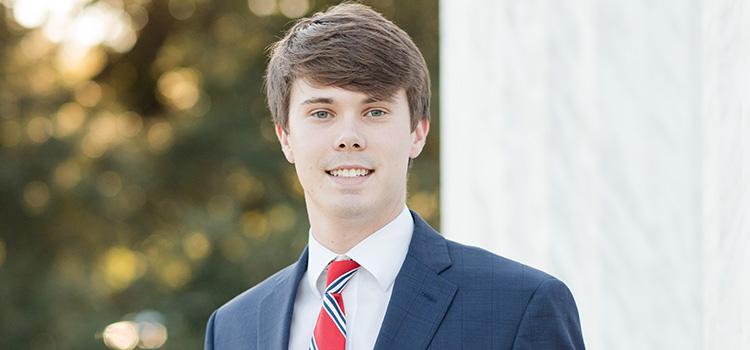 ---
Hello, I am Ian Peek, a senior majoring in Economics and Finance with a concentration in finance. I am from Andalusia, Alabama, a small town about two hours away from campus. I am a second-generation jaguar, but my history with USA goes back further than that. My father studied Economics at South Alabama, my older brother recently graduated with a degree in criminal justice, and my younger brother is currently a junior majoring in communications. I grew up with USA. Major events in South's history are woven into much of my personal history. I was there when the bell tower was dedicated, when Coach Jones was introduced as the first head coach of the football team, and in 2008 when South made it to the NCAA tournament in basketball. I considered other colleges, but I always knew I wanted to come to Mobile and attend South Alabama because it felt like home. I grew up rooting for the jags, and I knew I felt comfortable here.

I really love the community the Mitchell College of Business and South Alabama have given me. The professors show they care about us, whether it was the countless time I have visited during office hours or when MCOB is grilling at the baseball decks. Any opportunity is available to you at South. If you want to achieve or be involved it is up to you to take advantage of what MCOB has to offer. I have been able to travel to all parts of Europe, become a Mitchell Ambassador, and join the student-managed investment fund during my time at MCOB. Those opportunities have helped me to grow so much as a person and professional. I have thoroughly enjoyed my time as a Mitchell Ambassador, and have especially loved being in the Jaguar Investment Fund. I have learned so much about the stock market and managing over $600,000. It would be difficult to experience in a traditional classroom. As well as the on-campus openings, I was set up to intern as a buyer at Shoe Stations Corporate office here in Mobile. While there I assisted in selecting and purchasing new models of shoes and managed the inventory of all their stores located in Alabama, Georgia, Mississippi, and Florida. After I graduate I plan on getting a law degree and practicing somewhere in the southeast.

I spend my free time involved with organizations such as Campus Outreach, the Catholic Student Association, Kappa Alpha Order, and intramurals. These extracurriculars allowed me to engage in activities I enjoy such as basketball and tennis while also giving me direction to be a dedicated follower of Christ. I also work on campus for the National Alumni Association. These additional activities have added to my college experience and have helped me make lasting friendships and memories.

I cannot thank Mr. Mitchell, Dean Wood, and the faculty of the Mitchell College of Business for all the help and opportunities given to me. They treat us like family, and it shows when you walk the hallways of MCOB.

Back to Mitchell Report | October 2019
---
---