Student Spotlight: Ethan Flowers
---
Posted on May 27, 2020 by MCOB Outreach
MCOB Outreach
---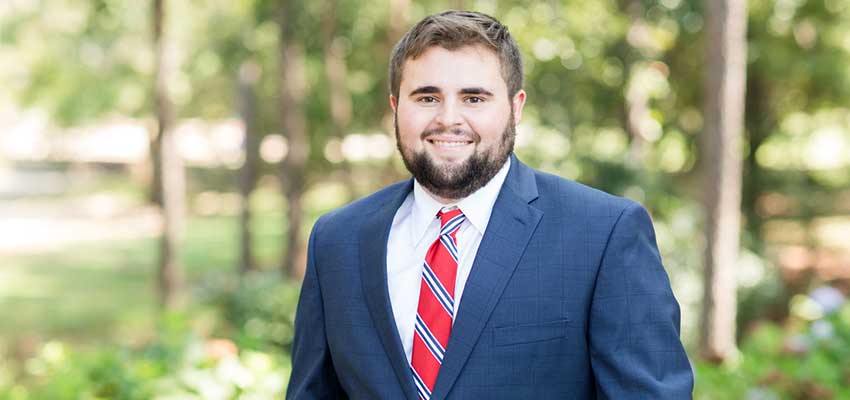 ---
Hello all. My name is Ethan Flowers, and I am a Sophomore majoring in International Business and Finance at the University of South Alabama. I was born and raised in the small town of Brantley, Alabama, roughly two and a half hours northeast of Mobile. I am a second generation college student, but the first to attend USA. Both of my parents graduated from Troy University, so you can imagine the discussion presented when I chose to attend South. Although I chose to attend South for my four-year education, my college experience actually began as a Sophomore in high school with my attendance of the local community college for night classes. It is interesting to imagine that I would be dropped off by my mother to attend classes after my varsity football practice because I was still 15 at the time, and would proceed to take night classes at Lurleen B. Wallace Community College with my peers, many of whom were more than twice my age. Nevertheless, I finished several classes through the dual enrollment program and came into college a full semester ahead.
I knew South would be my college of choice ever since I stepped foot on campus for the first time. I distinctly remember embracing the beauty of campus and the hospitality and friendliness displayed by faculty and students alike. My decision to attend South was further solidified when I interviewed and was selected for the Mitchell Scholarship. During my interview, I had the privilege to meet with Dr. Wood and hear firsthand the benefits of being a Mitchell Scholar. Also, I had the opportunity to sit in on one of Mrs. Madden's accounting classes during my interview process, and the care and attitude she offered to her students both in and outside of classes was inspiring and welcoming.
The opportunities I have been provided through MCOB have benefited me greatly. For example, I currently work as a Student Assistant in the Office of Student Services at the Mitchell College of Business. While working in this position, I have gained connections with a multitude of professors, some of which I now consider to be mentors. I also have the opportunity to serve as a Mitchell Ambassador, the official ambassadors of the college, and as the V.P. of Finances as well as a member of the fundraising committee for the Collegiate Entrepreneurs organization. Aside from MCOB, I have served as a SouthBound Orientation Leader and currently work as a Supervisor and Head Flag Football Referee with SouthSports, the official intramural sports program for the University of South Alabama.
Every moment of my college career has been enjoyable so far. From cheering on the jags at Ladd-Peebles Stadium to studying through the night for finals with my friends and classmates in the Student Center. I would speculate that my favorite experience so far has been my study abroad trip to France, which would not have been available without my involvement in the Mitchell Ambassador program. During this trip, ten Mitchell Scholars and Ambassadors were provided the opportunity to learn the culture and microeconomic contrast between several cities in France and the United States. Throughout our ten-day trip, we were able to visit the French Senate, tour the beaches of D-Day, and visit the Airbus A-380 airplane manufacturing facility. Those activities do not include the excursions planned during our free time, in which several of my friends took a train ride to visit the Palace of Versailles, The France study abroad trip had such an impact that I plan to visit Portugal and Spain at the beginning of summer 2020 on another study abroad exercise.
After Graduation, I plan to attend the University of South Carolina to earn my Masters in International Business. Then, I desire to work abroad in the finance department of an international corporation. Also, I dream of becoming a college football referee, specifically officiating in the Southeastern Conference. I would like to thank Dr. Wood and the rest of the Mitchell College of Business faculty and staff for their unending support and investment in my future. I truly do not believe I would have the success and inspiration I have today without the support and guidance of the Mitchell College of Business and the University of South Alabama.

---
---