Student Spotlight: Andrea Prgomelja
---
Posted on August 27, 2020 by MCOB Outreach
MCOB Outreach
---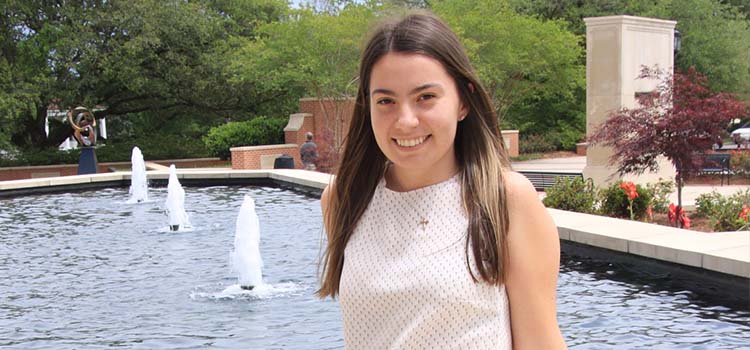 ---
Hello, my name is Andrea! I am a senior majoring in Business Management with a concentration in Entrepreneurship. I was born in Zagreb, Croatia. I chose to attend the University of South Alabama because of the beautiful campus and encouraging staff. My favorite things about the Mitchell College of Business are the staff and professors. They are here to help us succeed and many of them have had a huge impact on my career.
Throughout my time at South, I have worked as a marketing coordinator at State Farm, but I have also had the opportunity to work for The Melton Center for Entrepreneurship and Innovation here at the University. The Melton Center is a nonprofit that focuses on expanding the entrepreneurial ecosystem here in Mobile. While working for this nonprofit, we have been able to create programs that help local high school students learn more about starting a business. In addition, we also help local businesses expand and become more profitable. We have been able to provide college students the opportunity to enter pitch competitions to win money that can help jump start their business. Working for the Melton Center has given me many opportunities and helped me gain valuable marketing and leadership experience.
While at South, I have served as a Mitchell College of Business Ambassador and President for the Collegiate Entrepreneurs' Organization. While serving as President, my team and I had the opportunity to expand the organization to over 50 members. After graduation, I plan to pursue my Masters in Business Administration and then go on to start my own marketing and management company.
---
---