Student Spotlight: Amara Baltimore
---
Posted on December 9, 2019 by MCOB Outreach
MCOB Outreach
---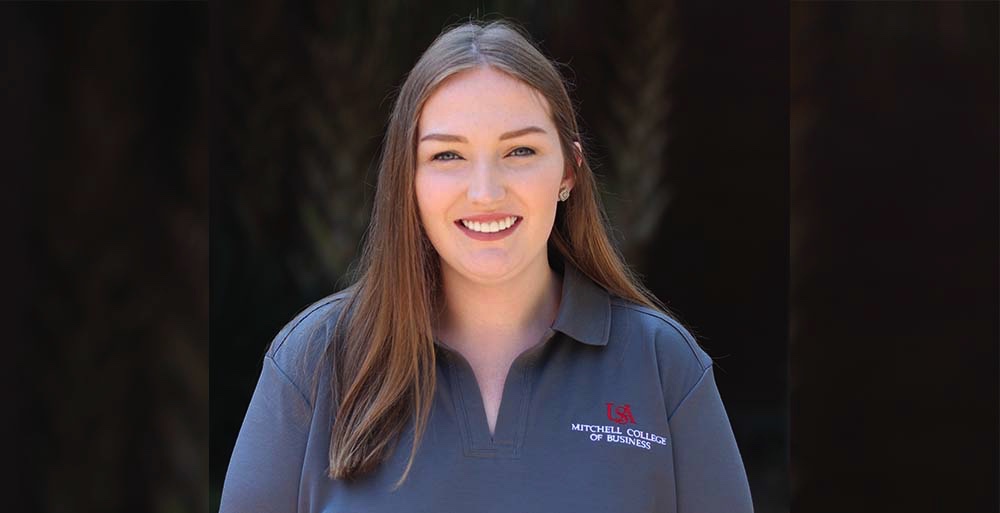 ---
Hi! My name is Amara Baltimore, and I am a Senior majoring in Accounting here at the Mitchell College
of Business. I'm from a small town in North Alabama not many people have heard of called Hazel Green,
so it's easier to just tell everyone I'm from Huntsville. I came to Mobile and toured South when I was in
high school, and I loved it immediately. I walked around campus as well as the city and knew I could call
it home someday.
I found out the semester before coming to South that I had been chosen as a Mitchell Scholar. This has
been an amazing opportunity that has allowed me to meet lots of influential people thanks to the
generosity of Mr. Mitchell. I saw firsthand, starting with Mr. Mitchell, how much faculty and members of
the community were willing to do to help students succeed. A big reason I came to South was because
of the size of the school. The teacher to student ratio was a big concern for me. I didn't want to be a
number in a lecture hall to a teacher who didn't know or care to know anything about me. I also worked
for almost three years as a Student Assistant in the Dean's Office. I met a lot of the professors through
this, but I have also seen the professionalism and dedication the professors in the Mitchell College of
Business show. They are there to help in any way they can if you run into an issue. Professors constantly
put forward a great effort here to prepare their students for the work force. I think another great thing I
have experienced at South is the amount of professional experience that my professors have. These
people don't only teach out of the textbook; they teach through real life stories and events. To me, that
is a valuable piece of knowledge.
I am currently the President of Beta Gamma Sigma. I attended the Global Leadership Summit for BGS
last year in Chicago, IL representing South. I was able to hear some incredible voices speak about how
certain industries are changing around the world. They also discussed how to get ahead in the business
world and what it takes to become a leader. These are things I never would have gotten to do at any
other school. Opportunities like this are what makes South Alabama so unique and appealing.
As my time here at South comes to an end, my education won't stop. I plan to pursue a Master of
Accountancy as well as sit for the CPA exam. Right now, I work as a State Intern at the Alabama
Department of Revenue. I have had a great internship experience that will hopefully turn into a full-time
career. This job has allowed me to expand my knowledge in ways far beyond the classroom. With that
being said, I am forever grateful to the people who have been a part of my experience at the University
of South Alabama. I have learned so much about myself as well as the world around me. Four years ago,
I would have never thought some of these things would have been possible. I will hold these memories
and, most importantly, my degree with me for the rest of my life. Go Jags!
Back to Mitchell Report | January 2020
---
---