Suit-able Majors
---
Posted on June 14, 2022 by MCOB
MCOB
---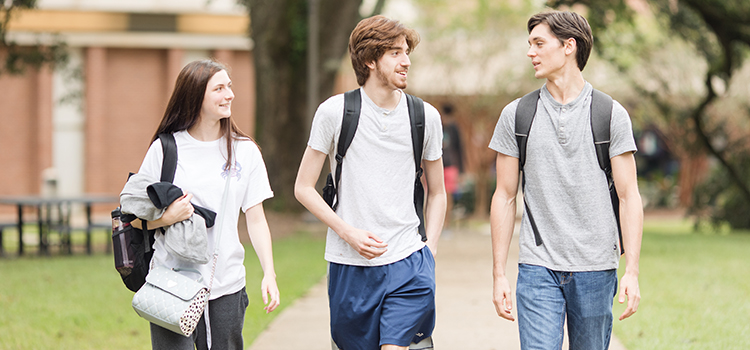 ---
Accounting
Accounting is the language of business. Students explore branches of the discipline, including tax, audit and analytics, on the way to such careers as financial analyst, controller, tax manager and auditor. Many graduates pursue certification as a CPA, CFE, CMA or CIA.
"I decided to major in accounting because it teaches you how to record and understand history in fiscal terms, objectively measure an entity's performance, and the practice greatly enhances your analytical skills. Accounting is a necessary skill set if you want to fully understand the known mechanics of the financial world."
- Christopher Mercer
---
Economics
The economics program prepares students for professional careers in managerial positions, government, administration, education and others. Positions in business economics and graduate study require knowledge of economics and the application of economic tools to analyze problems for decision-making.
"One thing I am particularly thankful for as an economics major is the knowledgeable and caring professors within the Mitchell College of Business. Dr. Urvashi Jain, is one such professor, who is particularly invested in her students even outside of the classroom. I am lucky enough to be working with her to reestablish the Economics Club, and her motivation to help her students is definitely contagious. Another notable professor within my major is Dr. Chris Lawrey. Through the Jaguar Investment Fund, I have had the opportunity to work with Dr. Lawrey in a setting different from most classrooms: the John B. Saint Financial Analysis Center. After having him as a professor for Investments, I felt inspired to apply for the JIF as an economist. Dr. Lawrey is a great example of an approachable professor who encourages students to work to the best of their abilities while providing the guidance and assistance to do so."
- Ian Montes de Oca
---
Finance
The finance program is designed to provide an understanding of the various areas and principles of finance. Students will develop a body of specialized knowledge and analytical techniques that are used in the acquisition, allocation and management of financial resources.
"Being vice president of the Financial Management Association has given me countless networking and internship opportunities. Through these opportunities I was able to obtain an internship at Airbus. My finance classes within MCOB have prepared me immensely for all that I encounter in my internship. For example FIN 410, Intermediate Business Finance, provided me with a lot of knowledge of the math side of finance, such as market securities and capital budgeting, that has proven invaluable working for a major corporation like Airbus"
- Jordin D'Aversa Williams
---
HR
Managers have become aware of the significant impact on the bottom line of effective utilization of the human resources in an organization. As a result, the human resource manager has become a key person on the top management team. Human resource management provides students with the skills and knowledge to become a proficient practitioner in this leading organizational field.
"My two favorite classes at MCOB are Employment Law and Organizational Staffing. Knowledge of law and its importance in the workplace is an absolute necessity for a career in HR. Employment Law allowed me to learn and truly retain how to handle legal issues that may arise in the workplace as an HR professional. Especially in today's society, workplace equality and knowing how to protect your employees from discrimination is crucial going into a career in HR. Organizational Staffing embodies HR practices and shows how to properly staff an organization from recruitment to managing turnover. I have been able to bring skills I learned from Staffing into my internship and it has truly supplemented my HR work experience. Recruitment is one of my favorite areas of HR, so learning all of the best strategies and practices for optimal success has been incredibly rewarding."
- Jensen Graddick
---
International Business
International business majors learn global cultural differences and business etiquette. The curriculum requires proficiency in a foreign language and strongly encourages studying abroad. It covers management, marketing, economics, finance, accounting and business law.
"MCOB has made me a better student and more knowledgeable about diversity. From my coursework to conversations with professors and other staff, I have been able to absorb so much knowledge not just about business but also about different countries and cultures. My classes have equipped me with the knowledge to work with international firms. My professors and experiences outside of the classroom have prepared me with the knowledge to thrive in international sectors."
- Qamya Richardson
---
Management
Management offers courses designed to give students a solid foundation in the field of management and will enable them to become effective managers, problem-solvers, and decision- makers in the world of business, industry, and government. Emphasis is placed upon problem recognition and anticipation, problem solving and managerial decision-making. The curriculum gives students insight into the means for improving the productivity and efficiency of modern organizations.
"I have taken several classes, such as Operations Management and Labor Relations, which I have been able to relate back to my current internship at APM Terminals in Mobile. It's exciting to realize that I can apply what I've learned in class to situations I've experienced at my internship. After graduation, I am eager to utilize and put in practice the knowledge that I have acquired to become successful in work and life!"
- McKenna Royer
---
Marketing
Marketing provides a way for companies to communicate to competitors, customers, and vendors. Students learn digital marketing, data analytics and market research. They also acquire the increasingly demanding technical skills required to excel in today's rapidly changing business environment.
"After considering multiple options for different fields within the Mitchell College of Business, I know I made the right decision when choosing marketing. My creative interests and desire to work in collaboration with people led me to see that this was a perfect fit. I pushed myself out of my comfort zone in the first two years to gain an understanding of the different fields of business. I did this by meeting with and observing professionals in accounting, finance and marketing. This was eye-opening to show me the real life of someone in that field. After seeing all of the creativity and personable traits required of the marketing professionals, I was inspired to pursue just that."
- Caitlin Crownover
---
Real Estate
The real estate program is designed to educate students about the myriad aspects of the real estate industry and to provide a solid foundation for taking advantage of the numerous career opportunities available in real estate and related industries. Students who complete the Real Estate concentration will develop the specialized qualitative and quantitative tools necessary to prepare them for the unique demands and complexities associated with real estate careers.
"My favorite class with the College of Business is FIN 444 Real Estate Valuation. I love Dr. Reid Cummings as a professor and enjoy his real-life experience that he integrates into each class. With this appraisal class it introduces you to the financial side of real estate instead of just the sales portion. I was also able to be the first student in the Mitchell College of Business's Jaguar Realty and internship program, which allowed me to obtain my real estate license while pursuing my bachelor's."
- Hannah Scearse
---
Supply Chain and Logistics Management
The supply chain begins with acquiring goods and services from vendors and extends through delivering finished products to customers. Students learn the skills necessary to streamline the coordination and collaboration with all of the global partners along the way.
"The supply chain industry is growing exponentially, and being in a port city, with a school like South, I am confident of the future ahead. I am excited to see the growth of this major and look forward to its impact on campus"
- Michael Pierce
---
Entrepreneurship
Entrepreneurship is key to economic growth. The entrepreneurship concentration is designed to create an innovation-focused mindset that produces entrepreneurs and entrepreneurial leaders in all aspects of business including: starting businesses, working in financing careers, innovative educators, franchise owners, economic development officials and social entrepreneurs. The concentration allows students to choose a combination of courses that best match their interests and entrepreneurial opportunities.
"Navigating Entrepreneurship has exposed opportunities to help other entrepreneurs in the community better their organization by practicing what I am actively learning in classes. The professors have such a diverse network within the community to pair with and learn from. In addition, the Coastal Pitch and Venture competitions offer opportunities to students to compete for money to invest into their new businesses with valuable feedback from successful investors!"
- Erica Luke
---
General Business
The general business program gives students a variety of skill sets across the business discipline and the flexibility to learn anywhere. Students gain knowledge and expertise in a variety of areas, including management, entrepreneurship, analytics, marketing and finance.
"You have such a wide array of classes you have to take. It wasn't all finance classes or all accounting classes. So it gives me more flexibility in applying for jobs."
- Marina Blankenship
---
---