Investing in Service
---
Posted on June 15, 2022 by MCOB
MCOB
---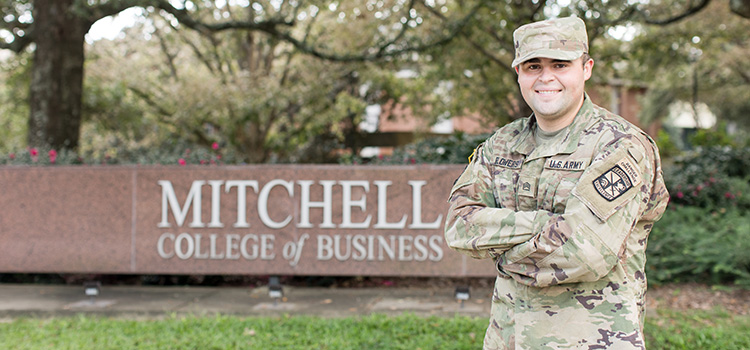 ---
A campus tour, a prestigious scholarship and Mobile's rich military all made deciding on a college a simple choice for Ethan Flowers. "When I toured South, the campus really felt like home," Flowers said. "I saw how much the professors really wanted to get to know their students."
Flowers is one of only eight Mitchell Scholars in his class, and the scholarship, named after University benefactor Abe Mitchell, solidified his decision. "Having the opportunity to learn from and interact with high achieving individuals, really sold me."
Growing up in the south-central Alabama town of Brantley, Flowers was in the ROTC program while in high school. His loyalty and commitment to his country remained as he pursued a degree in finance. "I knew I wanted to be successful in business," he said, "but my sense of service was still strong — I wanted to give back to my country." Flowers joined the Army ROTC program at South in 2021. "It added a year to my education, but I'm happy to be here."
A familiar challenge for many college students was no match for his training. "The freshman 15 is real, and it's followed by the sophomore 20," Flowers said. "To use finance terms, it grows exponentially, so I was severely out of shape and that challenged me to get in shape to meet Army regulations.
"In ROTC they train us to be the leaders for the Army and for America's future. Seeing the overlap in leadership required for various challenges and projects in both the Mitchell College of Business and my experience in ROTC has been very impactful. Both organizations approach different types of problems with similar, as well as differing philosophies."
Flowers's out-of-classroom activities extend beyond ROTC. He has completed five internships, at Austal USA, Omega Properties Inc., the Jaguar Investment Fund, Vanguard Pacific and Project GRIP. He was able to study abroad in France and, on campus, has been involved with the Collegiate Entrepreneurs Organization, Financial Management Association, Mitchell Ambassadors, Mitchell Scholars and South Sports intramurals.
"One of my hidden secrets is that I aspire to be an SEC football referee on the weekends," Flower said. "Building a network in sports through South has really been fun and beneficial."
Post graduation, Flowers said, he will either join the active military or immediately begin his business career while serving in the National Guard.
"Ultimately my goal is to get into professional sales and transition to the passive side of real estate investments," he said. "I'm weighing my options carefully, but that's the great thing about the Mitchell College of Business. I have professors and connections who have walked this path and can help me make that decision."
---
---