Early Childhood Education Alt. M.Ed.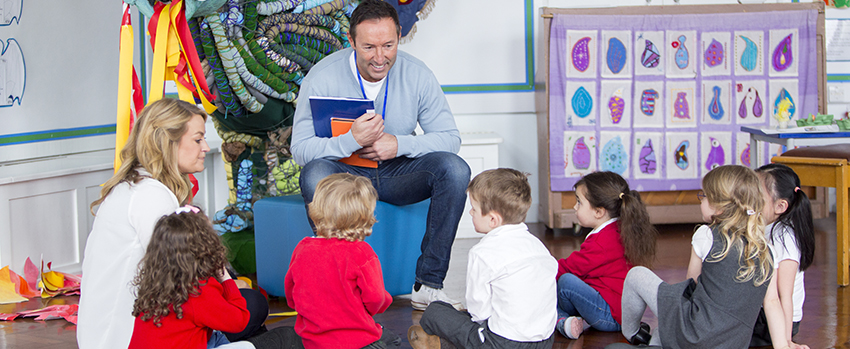 The Alternative Master of Education (Alt. M.Ed.) in Early Childhood Education is a 42-hour program that prepares individuals holding a B.S. to teach in prekindergarten through 3rd grade classrooms. Upon completion of the program and accompanying tests, students are eligible for the Class A Professional Early Childhood Education (P-3) certificate.
▼ Frequently Asked Questions
When does the Alt. Masters of Education program begin?
Students are admitted into the program every semester (Spring, Summer, and Fall).
How long does the program take to complete?
The program is 42 credit hours (14 courses. Courses are readily available every semester allowing students to take a full load (9 hrs) without difficulty. The amount of time to complete the program depends upon how many courses are taken each semester. Students taking a full load (9 hours a semester) can expect to finish in 5-6 semesters while those who are working or have other responsibilities along with school may take a bit longer.
Will I be able to keep working while taking classes?
All of the courses (except practicum and student teaching) are offered either online or in the evenings. As a result, most students are able to maintain full-time employment until their final semester of student teaching.
▼ Admission Requirements
A bachelor's degree from an accredited institution of higher education.

*USA students applying to a USA graduate program in the College of Education and Professional Studies should complete a transcript request form (PDF) found on the University Registrar's Office website.

In the Name/Organization field for the transcript recipient write, "USA Graduate School". There is no charge associated with this request. This option applies only to USA transcripts for students applying to USA graduate programs.
GPA Requirement: A bachelor's degree from a regionally accredited institution with a minimum overall GPA of 2.5 or a master's or higher degree with a GPA of at least 3.0. This GPA must be documented on the official transcript of the degree granting institution and must be the GPA that was used as the basis for granting the degree, not a GPA that includes post-degree courses.



GPA Exception for unconditional admission to Alternative Class A State Department of Education-approved programs: Individuals who have earned a bachelor 's degree from a regionally accredited institution at the time the degree was earned and do not meet the minimum overall undergraduate GPA of 2.5, but have at least a 2.0 overall undergraduate GPA, may seek provisional admission to an Alternative Class A program if the alternate score on the Alabama prescribed Praxis subject-area test is obtained. The alternate scores can be found on the Alternate Score Requirements document at www.alsde.edu (Department Offices: Educator Assessment: Educator Assessment Policies). The ONLY tests and scores accepted are those listed on the Alternate Score Requirements document. All other requirements for admission must also be met.
Clear Alabama State Department of Education background check.

Registration

Verification
Complete Option 1: Passing score on the Elementary Education: Three Subject Bundle and 12 hours of coursework in English or Option 2: Twelve hours of coursework in each of the following four areas: English, Math, Science, Social Studies.


Personal statement on applicant's career goals and purpose for graduate study.

To apply - click here to get to the Admissions login page.
Faculty Advisor
Dr. Kelly Byrd
Ph: (251) 380-2761
kbyrd@southalabama.edu