Box Office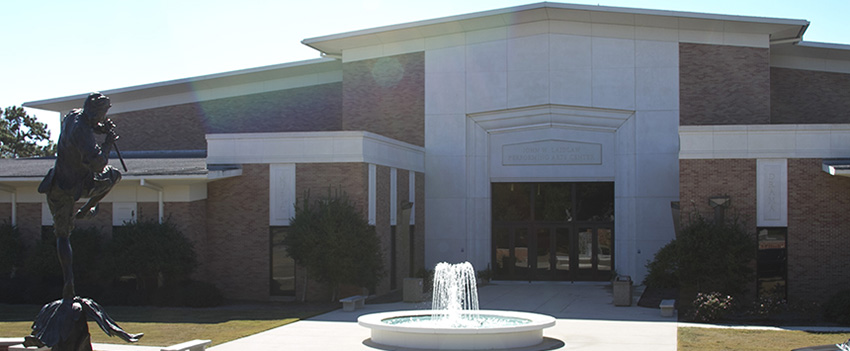 THEATRE USA BOX OFFICE,
LAIDLAW PERFORMING ARTS CENTER
Located on the corner of University Blvd. North and USA Drive South, the Laidlaw Performing Arts center is a state-of-the-art facility, built in 1998. This 52,000 square foot facility includes two performing spaces, a full scenic and costume shop, as well as classrooms and offices for both departments. Named in honor of prominent local developer John "Jack" Laidlaw, it houses both the Dept. of Theatre & Dance, as well as the Dept. of Music.
Box Office: Location and Ticketing
The Theatre USA Box Office is located in the lobby of the Laidlaw Performing Arts Center, and is open for ticket sales, starting two weeks before the opening of each show, Monday through Fridays from 9:00am to 4:30pm, and one hour before each performance. Contact the Box Office at (251) 460-6306, or by email at: theatreusaboxoffice@gmail.com.
SEASON TICKETS (1 ticket for each of the 4 productions):
General: $60
Seniors/USA Fac. & Staff/Dept. Alumni/Active Duty Military/Groups (10+): $50
Students: $40
FLEX PACKAGE: (4 tickets for use in any combination during the season, with the exception of no more than 2 tickets redeemed for the musical):
General: $60
Seniors/USA Fac. & Staff/Dept. Alumni/Active Duty Military/Groups (10+): $50
Students: $40
SINGLE TICKETS:
General: $16 ($20 musicals)
Seniors/USA Fac. & Staff/Dept. Alumni/Active Duty Military/Groups (10+): $14 ($16 musicals)
Students: $12 ($14 musicals)
SEATING CHART: