JagPantry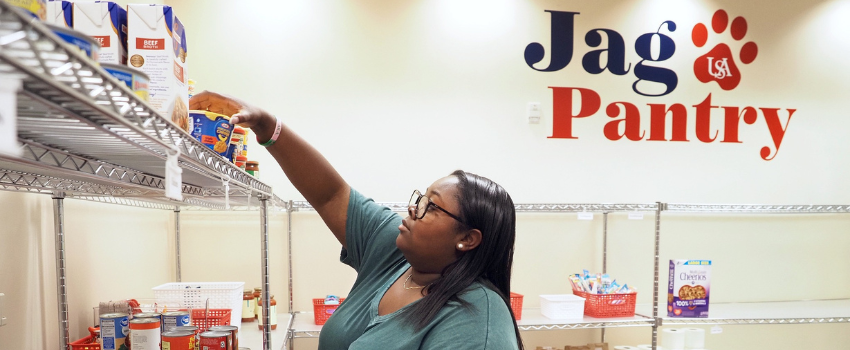 The JagPantry provides short-term relief for students experiencing food insecurity and strives to ensure they feel valued, respected, and supported during this hardship. We ask that students only take the items they need.
Students experiencing any type of illness are asked to please stay home and contact South CARES if they are in emergent need of food.
---
Hours of Operation:
Walk-ins are welcome to visit the JagPantry, located Meisler Hall- Room 2130, Monday through Friday between 8:00 a.m. and 5:00 p.m.
Donate
Donations to the JagPantry are always welcome and greatly appreciated. The pantry accepts perishable and non-perishable donations from individuals and organizations. Expired, damaged, or frozen items cannot be accepted.
A list of possible donations are included below. Please contact USA's Donor to Diner student organization at usadonortodiner@gmail.com with any questions.
Cereal
Snacks
Fruit cups/canned fruit
Evaporated milk
Canned meat
Pasta or noodles
Pasta sauce
Peanut Butter
Microwavable food items (i.e. macaroni and cheese, oatmeal, etc.)
Toiletry items
Feminine Hygiene
Don't have items to donate but would still like to support the JagPantry? You can click the Donate Now button below to make a one time or recurring gift. Your generosity is sincerely appreciated.
Donation Drop-off
Please contact usadonortodiner@gmail.com at least 5 days prior to the planned drop-off date to ensure timely processing of your donation. If you or your organization are interested in planning a food drive to support the JagPantry, please reach out to USA's Donor to Diner prior to the event.